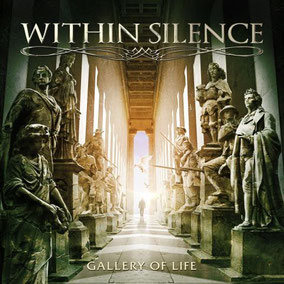 VÖ: 08.05.2015
Label: Ulterium Records
Format: CD
Tracklist:
01. Intro
02. Silent Desire
03. Emptiness of Night
04. Elegy of Doom
05. The Last Drop of Blood
06. Love is Blind
07. Anger and Sorrow
08. Judgement Day
09. The World of Slavery
10. Road to the Paradise
11. Outro
Within Silence formten sich im Jahr 2008 unter dem Namen Rightdoor. Zu dieser Zeit bestand die Band allerdings nur aus Martin Klein und Richard Germanus, war aber eher als Projekt tätig, anstatt eine richtige Band zu sein. 2012 waren dann alle Bandmitglieder gefunden und man nahm eine erste Single auf, um auf sich Aufmerksam zu machen. Im Folgejahr fand sich die Band in der nun aktuellen Besetzung zusammen und spielte einige Shows in der slovakischen Heimat. 2014 wurde aus dem Quintett dann Within Silence.
Das Erstlingswerk der Slovaken verspricht, ein sehr gutes Metal Album zu werden! Ein leises Intro läutet das Album ein. Seichte Töne, doch dann schmettern Drums und Gitarren los und "Silent Desire" beginnt. Schon hier kann man sich von den Qualitäten der Band überzeugen. Sowohl musikalisch, als auch der Gesag. Bei Within Silence sitzen die Noten! Eine tolle, lebensbejahende Musik schallt aus den Boxen und macht Lust auf mehr. Raffinierte Gitarrensoli und auch sonst gut strukturierte und umgesetzte Melodien. 
Bei "Emptiness Of Night" geht es qualitativ genauso weiter und so erstreckt sich die Hörlust über das gesamte Album. Ob "Love Is Blind", "Judgement Day", oder "Road To The Paradise"; jeder Fan von Melodic/Heavy Metal kommt bei "Gallery Of Life" voll auf seine Kosten! Das Album beinhaltet neben den eben benannten Genrerichtungen auch Elemente des Power Metal.
Eine super Produktion, die Jan Cvercko zu verantworten hatte. Von ihm stammt auch das Mixing und Mastering.
Auch das Artwork (Darstellung eines griechisch aussehenden Ganges eines Tempels, gesäumt von Säulen und Steinstatuen) von Jan Yrlund [(Darkgrove Design) Delain, Apocalyptica, Korpiklaani] macht schon Lust auf diesen Silberling.
Wenn ihr Fans von Bands wie Sonata Arctica, Stratovarius und Co. seid, könnt ihr bei diesem Album guten Gewissens und ungehört zugreifen!
 (Sarah Jacob)

line-up:
Martin Klein - Lead vocals, backing vocals
Richard Germanus - Solo & rhythm guitars, growls, backing vocals
Martin Cico - Rhythm guitars
Filip Andel - Bass, backing vocals
Peter Gacik - drums