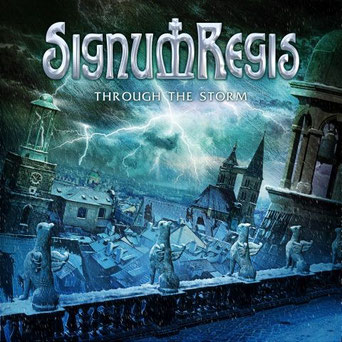 VÖ: 08.05.2015
Label: Ulterium Records
Format: CD
Tracklist:
01. Living Well
02. Through The Desert, Through The Storm
03. My Guide In The Night
04. Come And Take It
05. All Over The World
06. Vengeance/Liar
Diese 6-Track-EP ist das nun vierte Werk der Slovaken. Im letzten Jahr spielten SIGNUM REGIS ein paar Shows in der Slovakei, den Niederlanden, Deutschland und der Schweiz. 2014 wurde ebenfalls an neuem Material gearbeitet und man entschied, im Mai 2015 eine EP auf den Markt zu bringen. Zum erbst soll dann noch das vierte Studioalbum folgen.
Nach diversen Besetzungswechseln in den ersten Jahrenund den unterschiedlichen Sängern auf dem Vorgänger "Exodus" (Göran Edman [ex. Yngwie Malmsteen], Lance King [ex. Pyramaze, Balance of Power], Matt Smith [Theocracy], Michael Vescera [Obsession], Daisa Munhoz [Vandroya, Soulspell] etc.) hat man sich nun dazu entschieden Mayo Petranin als neuen Leadvocalist zu bestimmen. Mit dieser Wahl kann die Band auch sehr zufrieden sein, wie die EP beweist. Neben neuen Songs wurde auf "Through The Storm" auch ein Re-Recording des "All Over The World" Cover-Medleys aufgenommen.
Die kräftige Stimme wird von den Gitarren sowie den Drums gut unterstützt. Die Songs gehen ins Ohr und machen Laune. Die EP ist insgesamt kurzweilig und macht Lust auf das Album und auch auf Konzerte der Band. An "Through The Storm"  werden Fans des Melodic Metal und auch Heavy Metal sowie Artverwandtes eine große Freude haben!

Aufgenommen und gemischt wurde die EP von Ronnie König und Signum Regis- Das Mastering hat Jacob Hansen (Volbeat, Amaranthe, Evergrey) übernommen und das Artwork ist von Jan Yrlund (Delain, Apocalyptica, Korpiklaani)

(Sarah Jacob)

line-up:
Mayo Petranin - Lead Vocals
Filip Kolus - Guitars
Ronnie König - Bass, backing vocals
Jan Tupy - Keyboards, backing vocals
Jaro Jancula – Drums
Special guest on the "Through The Storm EP": Roger Staffelbach
Diskografie:
2015: Through The Storm EP [Ulterium Records]
2013: Exodus[Ulterium Records]
2010: The Eyes Of Power [Inner Wound Recordings]
2008: Signum Regis [Locomotive Records]