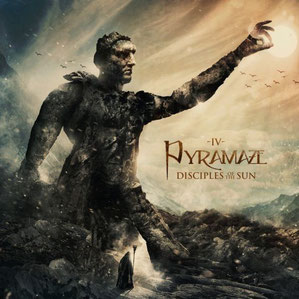 VÖ: 08.05.2015
Label: Inner Wound Recordings
Format: CD
Tracklist:
01. We Are The Ocean
02. The Battle of Paridas
03. Disciples Of The Sun
04. Back For More
05. Genetic Process
06. Fearless
07. Perfectly Imperfect
08. Unveil
09. Hope Springs Eternal
10. Exposure
11. When Black Turns To White
12. Photograph
Die Dänen von Pyramaze gründeten sich bereits 2002 und haben schon drei Langspieler veröffentlicht. Sogar Matt Barlow gehörte bereits zum Lineup, bevor er sich entschied, doch wieder mit Iced Earth zu arbeiten. Nach ein paar Besetzungswechseln kehren sie nun mit "Disciples Of The Sun" und neuer Stärke in die Welt der Musik zurück.
Ein ruhiges Intro, leise Melodien wabern vor sich hin. Piano, Gitarren und schon donnert uns "The Battle Of Paridas" aus den Lautsprechern entgegen. Der erste Eindruck: die erste PC69 Scheibe mit Readmen. Damals, als sie noch gut waren...
Terje Harøy macht einen sehr guten Job am Mikro und auch die Band weiß genau was sie tut. Auf dem Album gibt es auch ein paar Gastmusiker, die ihre Qualitäten mit in die Platte einfließen lassen.
Harte und volle Gittarrensound sind der Hauptbestandteil von "Disciples Of The Sun", komplettiert von epischen Keyboardarrangements und der Power der Drums. So kann man die Musik im Prinzip auch bedchreiben: Heavy Epic Power Metal.
Produktion, Mixing und Mastering entspringen dem Talent des bandeigenen Gitarristen und Bassisten Jacob Hansen, der auch schon für Bands wie Volbeat, Amaranthe, Epica und Evergrey tätig war.
Das Artwork haben wir Alex von Mayhem Project Design zu verdanken.
(Sarah Jacob)
"Divided by oceans, bound together by brotherhood, we must become that which divides us.... we are PYRAMAZE, and we are the Ocean!"
line-up:
Terje Harøy - Vocals
Jacob Hansen – Guitars, bass
Jonah W. - Keyboards
Toke Skjønnemand - Guitars
Morten Gade Sørensen – Drums
Special guests on the album:
Joost Van Den Broek [ex. After Forever, Star One]
Kim Olesen [Anubis Gate]
Henrik Fevre [Anubis Gate]
Diskografie:
2015: Disciples of the Sun [Inner Wound Recordings]
2008: Immortal [Locomotive. Re-issue: Inner Wound Recordings 2014]
2006: Legend of the Bone Carver [Massacre/Nightmare]
2004: Melancholy Beast [Replica/Nightmare]