Hafrsfjord an Norwegens Westküste. A.D. 873. Wisst ihr, was da passierte?
LEAVES' EYES entführen euch auf ihrem neuen Album "King Of Kings" genau dort hin - für einen kleinen Exkurs in früher norwegischer Geschichte und zu Harald Hårfagre, der als erster König Norwegens gilt.
Diese Produktuion ist ein einzigartiger Soundtrack, eine beeindruckende Erfahrung. "King Of Kings" wurde in Studios in Deutschland, Norwegen, England, den Niederlanden, Weißrussland und der Schweiz aufgenommen. Produziert hat Alexander Krull im Mastersound Studio. Besonders stolz kann man zudem auf das Mitwirken hochkarätiger Gäste sein; u.a. konnte das London Voices Choir Ensemble ("Herr der Ringe", "Star Wars", "Der Hobbit", "Harry Potter") gewonnen werden.
Das groaßrtige Coverartwork stammt von Stefan Heilemann (Lindemann, Nightwish, Epica, Kamelot).
Sängerin Liv Kristine erklärt: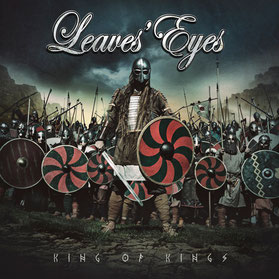 "Harald Hårfagre (c.850-932), remembered by medieval historians as the first king of Norway. The battle of Hafrsfjord is described in the Saga of Harald Hårfagre (Harald Fairhair) in Snorri's Heimskringla. Harald defeated several petty kings and the battle is considered decisive in the unification of Norway. The seabed in Hafrsfjord hides many secrets and many traces. Moreover, Hafrsfjord is my birthplace. With our upcoming album we would like to take you on a journey through a highly interesting chapter in Scandinavia's history.
Those of you who were present at our latest concerts surely noticed that there's one new song on our setlist, "Halvdan the Black" - one chapter of the upcoming album "King of Kings"! Halvdanr Svarte (c.810-860) was a ninth-century king of Vestfold, Norway. He belonged to the House of Yngling (son of Odin' line) and was the father of Harald Fairhair. "Halvdan the Black" is just the start of an amazing adventure!"
 
"King Of Kings" wird im September erscheinen.
---
LEAVES' EYES unterzeichnen weltweiten Plattenvertrag bei AFM Records, neues Album in 2015
Nach erfolgreichen Touren rund um den Globus haben sich LEAVES' EYES wieder ins Mastersound Studio begeben, und ein neuer Vertrag wurde mit AFM Records unterzeichnet!
"Mit AFM Records als Vertragspartner zu arbeiten freut mich wirklich sehr," sagt Frontsängerin Liv Kristine. "Wir haben uns eine vertrauensvolle und erfahrene Plattenfirma gewünscht und genau diesen Partner haben wir auf unserer Seite mit Jochen und seinem kompetentem Team."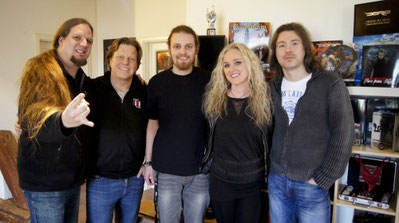 Sänger und Produzent Alex Krull: "Wir freuen uns ganz besonders bei AFM Records unterschrieben und mit Jochen Richert und seiner Mannschaft ein starkes Team an der Seite zu haben! Wir kennen Jochen seit vielen Jahren und haben schon in der Vergangenheit sehr erfolgreich zusammengearbeitet. Ein neues Kapitel in der LEAVES' EYES Geschichte hat begonnen!"
AFM CEO Jochen Richert: "Wenn man die Chance bekommt, mit einer so tollen Band zusammenarbeiten zu können, dann greift man die Gelegenheit beim Schopfe. Liv und ihre Jungs gehören zum Besten was dieses Genre zu bieten hat. Dass Alex und Liv dazu noch zu extrem professionellen und angenehmen Zeitgenossen gehören, rundet das "Gesamtpaket" LEAVES' EYES zusätzlich ab. Wir sind stolz und glücklich, eine neue Heimat bieten zu dürfen."
AFM Creative Director Nils Wasko: "Eigentlich kann ich mich hier nur anschließen und freue mich sehr, LEAVES' EYES "an Bord" zu haben. Liv ist eine wahre Ikone des Gothic- und Symphonic Metal, die zuerst Theatre Of Tragedy und später dann LEAVES' EYES zu weltweitem Erfolg führte. Wir freuen uns sehr auf die Zusammenarbeit."
In Mai werden LEAVES' EYES in UK und danach kreuz und quer durch Latein Amerika unterwegs sein, einige Sommerfestivals spielen und in der zweiten Jahreshälfte 2015 ihr heiss ersehntes neues Opus veröffentlichen!