Dani Filths Witch County Horror Metaller DEVILMENT premieren heute das offizielle Musikvideo zu 'Sanity Hits A (Perfect) Zero'. Der Song stammt vom Debüt der Band, »The Great And Secret Show« (2014).

Das Video wurde unter der Regie von Lizzy Ellam gedreht und von Sam Scott-Hunter bearbeitet und kann hier angesehen werden: http://smarturl.it/SanityHits​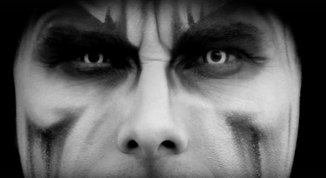 Satansbraten Dani Filth bezieht Stellung:
"It was enormous fun filming the video for 'Sanity Hits A (Perfect) Zero' as it was decided that it would appear very chaotic, retro and dirty from an early stage, as if the discovered film stock had slightly perished with age, bringing with it a psychedelically lurid post-apocalyptic vision.
The whole experience was undertaken close to home in Suffolk at a countryside scrapyard, with friends and performers being assembled, dressed, watered and fed by the extended DEVILMENT family, with a crew 'borrowed' from the local university.
In essence it was very much an underground guerrilla effort, the spirit of which we intended to capture on a day which fortunately fell between two bouts of horrible stormy weather, thus enabling the use of flame on what was essentially a fuel-soaked death trap waiting to ignite.
Still, all's Hell that ends well, and we think the finished video (perfectly) compliments the madness and feral metallic adrenaline of the track heaved under the spotlight."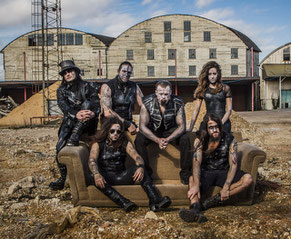 ---
DEVILMENT stellen neuen Gitarristen vor
Dani Filth's Witch County Horror Metaller DEVILMENT haben in Sam S Junior (Foto: sitzend, unten links) ihren neuen Gitarristen gefunden, der rechtzeitig kurz vor der DEVILMENT-Show auf dem Hammerfest in Pwllheli, North Wales am kommenden Wochenende die Band komplettiert.
DEVILMENT spielen am Samstag auf der Main Stage um 18.15 Uhr.
DEVILMENT werden sich zudem auf dem diesjährigen Graspop sowie dem Summer Breeze Open Air die Bühne mit CRADLE OF FILTH teilen...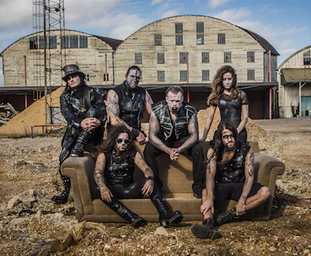 Das Songwriting zum Nachfolger des DEVILMENT-Debüts »The Great And Secret Show« (erhältlich über Nuclear Blast Entertainment) hat bereits gemeinsam mit Sam S Junior begonnen und verspricht bereits, eine Weiterentwicklung vom vorherigen Material zu sein - der Fairness halber muss man dazu sagen, dass es jetzt schon verdammt geil klingt!
Wer das Debüt noch nicht besitzt oder noch schönes Merchandise braucht, kann dieses beim Nuclear Blast Mailorder beziehen.
Welcome to the Werewolf Corps, Sam!
www.facebook.com/devilmentcorps