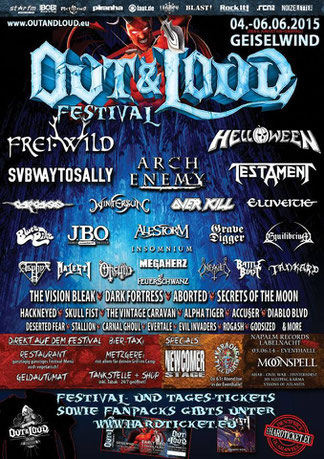 Eines der in jeglicher Hinsicht außergewöhlichsten Open Airs der deutschen Festivallandschaft nimmt konkrete Gestalt an. Die ersten Headliner für das Out & Loud-Festival, das vom 4. bis 6. Juni auf dem Gelände des Autohof Strohofer stattfinden wird, stehen fest. Darunter befinden sich die deutsche Metal-Legende Helloween, die BundesVisionSongContest-Sieger von 2006, Svbway to Sally, und die erfolgreichen Erlanger Spaßrocker von J.B.O.
Doch es sind bei Weitem nicht nur die Bands, die das Out & Loud bei Besuchern und Veranstaltern gleichzeitig so unvergesslich machen: trotz enorm gestiegener Besucherzahlen und riesigem Erfolg in diesem Jahr, ist das Festival von und für Metal-Fans. Und die bewohnen in den drei Tagen nicht nur ein Festivalgelände, sondern gleich einen ganzen Autohof mitsamt Restaurants, Supermarkt, Spielhalle, Hotel und nicht zuletzt eigener Metzgerei und Biertaxi, bei dem man für rund einen Euro den kühlen Gerstensaft bis direkt ans Zelt geliefert bekommt.
Während andere Open Airs auf stilistisch gemischtes Programm und Crossover-Publikum setzen, sind beim Out & Loud die Metal-Fans wirklich noch unter sich. "Das beeinflusst natürlich auch die extrem gute Stimmung", weiß Ruth Strohofer vom Autohof Geiselwind. "Metaller teilen viele Gemeinsamkeiten und verstehen sich daher – auch auf dem Zeltplatz spürt man das deutlich." Die Fans teilen einige Grundinterressen, die in Geiselwind voll bedient werden: mitten auf dem Festivalgelände befinden sich diverse Restaurants, die teils 24 Stunden geöffnet sind, darunter Fast Food und eine urig fränkische Gaststätte. Für die Selbstversorger gibt es eine eigene Metzgerei, bei der hochwertigstes Grillfleisch gekauft werden kann – ein Aspekt, der bei einem Rock-Open-Air unerlässlich ist. Und auch um die Biervorräte müssen sich Besucher keine Sorgen machen. Neben diversen Einkaufsmöglichkeiten direkt auf dem Gelände wird der Campingplatz von einem eigenen Biertaxi versorgt, das frisch gekühltes Bier direkt ans Zelt liefert.
Besonders gelobt wurde in diesem Jahr auch die Freundlichkeit des Security- und Servicepersonals. "Es gibt einen eigenen Shuttle-Traktor, der Gepäck zu den Zelten bringt", so Ruth Strohofer, "und die Mitarbeiter repräsentieren die familiäre Festivalatmosphäre mit – es sind auch schon Fans von Mitarbeitern wieder erkannt und freundschaftlich begrüßt worden." Besonders kümmern will man sich um Behinderte, wie Ruth Strohofer weiter erklärt: "Das Gelände ist weitestgehend behindertengerecht. Wir bieten auch besondere Shuttledienste und wollen so gut es geht auf alles Rücksicht nehmen. Wir bitten, um auch wirklich alles bestmöglich gewährleisten zu können, um Voranmeldung für 2015, damit auch wirklich für alle genug Platz ist."
2015 wird das OUT & LOUD wieder mit drei Bühnen aufwarten, darunter die Newcomerbühne, die bereits in diesem Jahr für die ein oder andere tolle musikalische Neuentdeckung gesorgt hat.
Bestätigte Bands: Helloween, Svbway To Sally, J.B.O., Alestorm, Blues Pills, Battle Beast, Eluveitie, Equilibrium, Feuerschwanz, Grave Digger, Megaherz, Overkill, Orchid, Tankard, Stallion, Secrets Of The Moon, Skull Fist, The Vision Bleak, Wintersun, Unleashed, The VIntage Caravan, Rogash, Evil Invaders, Evertale, Diablo Blvd, Carnal Ghoul, Dark Fortress, Carcass, Asphyx.
(Jan Heesch)

Infos: www.outandloud.eu
Tickets: www.hardticket.eu