Warbringer haben sich selbst einen Ruf aufgebaut. Die southern California Trash Metaller waren Teil jeder großen Headliner Tour um den Globus für die letzten fünf Jahre. Es grenzte an ein Wunder, dass sie nebenher noch die Zeit gefunden haben, vier Alben aufzunehmen. Und dann kam alles zum Stillstand.

"I really thought that the Empires Collapse record cycle ended prematurely due to the departure of (guitarist) John Laux and (drummer) Carlos Cruz. I figured it would be the end of the band, and the end of my life's work, as I'd really put everything I had into this band," erklärt Sänger John Kevill.

"I remember on the last show we played on that US tour (guitarist) Adam Carroll came to me and told me how we had to keep the torch held high and to realize the full potential of the band no matter what. We carried on the following European tour with fill-in members, as we really hate to cancel a gig and let down our fans, but it really seemed like the end for us. Fortunately, though it took a long time, we have been able to find musicians in our area to help carry on the torch of the destructive, intense music this band stands for. So welcome Vicken Hovsepian on drums, Noah Young on guitar, and Alex Malmquist on bass. Our mission since we started rehearsing together was to be the tightest incarnation of the band yet, and to raise the bar and move forward, never back. So far progress has been great and I can't wait to get out there and unleash this new weapon upon the world."

Nach Monaten voll von intensiven Proben ist das Quintett bereit, der Welt die neuen WARBRINGER zu zeigen. Die Kampange beginnt mit einem 'Angriff in Asien', denn es gibt nichts besseres als halb um die Welt zu fliegen um ein neues Lineup vor der riesen Menschenmenge auf dem Hammersonic Festival in Jarkarta, neben Bands wie Lamb Of God, Mayhem, Vader, Unearth, The Faceless und anderen, vorzustellen. Dieser Show folgen dann weitere Headliner-Termine in dieser Region.

"We are extremely pumped to return to Asia. It will be our third time over there and we're ready to get back into action and bust some skulls!  We've played Indonesia and Taiwan before but this run will include our first visit to China so we're excited for that," so Kevill.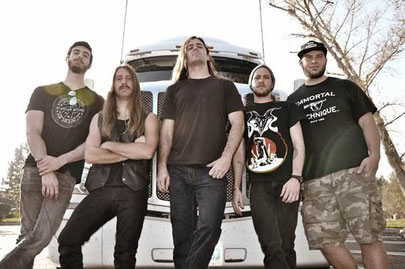 Warbringer planen bereits Shows in den USA für den Sommer während des Songwritings für das neue Album und gerade erst haben sie ihren Support für Meshuggah, sowie eine kleine Tour und ein Headlining im berüchtigten Whisky, bekannt gegeben.

"We're looking forward to playing our hometown again after well over a year. We're going to play some songs we have never played live before and seriously bring down the hammer. See you guys there, c'mon and let's wreck the place!"

Warbringers viertes Album "IV: Empires Collapse", welches über Century Media Records im Oktober 2013 veröffentlicht wurde, wurde mit Produzent Steve Evetts (Sepultura, The Dillinger Escape Plan, Suicide Silence) aufgenommen, gemixt von Brett Eliason (Pearl Jam, Heart, BoySetsFire) und gemastert von Alan Douches / West West Side Music (Cannibal Corpse, Hatebreed, Converge).

Warbingers letztes Promovideo zu "Black Sun, Black Moon" aus "IV: Empires Collapse" könnt ihr hier sehen: http://www.muzu.tv/centurymedia/black-sun-black-moon-video/2182914/

Ein Lyric-Video zu "Hunt-Seeker" gibt's hier: http://www.youtube.com/watch?v=3BfxYMI8L9Q

Behold the furious return of WARBRINGER...

WARBRINGER Diskografie:

War Without End – 2008
Waking Into Nightmares – 2009
Worlds Torn Asunder – 2011
IV: Empires Collapse – 2013

WARBRINGER online:
www.warbringermusic.com
www.facebook.com/Warbringermusic
www.twitter.com/warbringerband
www.youtube.com/WarbringerOfficial