Regisseur Mitch Massies blutige Ekelorgie als Premiere exklusiv auf Bloody-Disgusting.com!
WHITECHAPEL aus Tennessee zeigen heute ihr neues Musikvideo, aber Vorsicht: "Let Me Burn" ist ganz anders als frühere Clips der Band. Die arbeitet diesmal mit Regisseur Mitch Massie zusammen, der schon für die drastischen Clips von Cattle Decapitation, The Dillinger Escape Plan und anderen Bands verantwortlich war. Mitch Massie brachte den Text von "Let Me Burn" auf wunderbar blutige Weise zum Leben; dieses Video ist nichts für schwache Gemüter.
WHITECHAPELs Sänger Phil Bozeman erläutert: "Es geht um einen Mann, seine Frau und ihre Tochter. Man sieht, wie er langsam den Verstand verliert. Dann tötet er seine Frau, kippt sich schließlich Treibstoff über und bittet seine Tochter, ihn anzuzünden. Der springende Punkt dabei ist aber, dass der Kerl alles hat, was er braucht und will, sich aber geistig nicht kontrollieren kann und unter klinischem Wahnsinn/Schizophrenie leidet. Darum bedauert er, was er getan hat." Gitarrist Alex Wade weiter: "Wir versuchen es zum ersten Mal mit einer Story, statt ein Performance-Video zu machen, und sind sehr zufrieden mit dem Ergebnis. Phils Idee für das Konzept gemeinsam mit Mitch Massies Arbeit als Regisseur gereichte uns zu einer sehr düsteren, bösen Stimmung, die gut zu dem Stück passt."
Das knallharte Video - klanglich wie visuell - kann passenderweise auf blood-disgusting.com HIER bestaunt werden. Bei Darstellungsproblemen auch hier: https://vimeo.com/120607184

WHITECHAPEL werden ab dem 21. April wieder in Europa zu sehen sein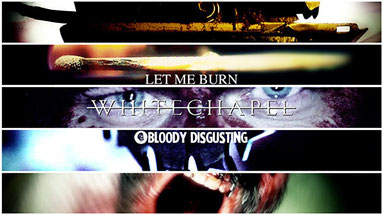 PROGRESSION TOUR 2015
Suicide Silence
+ WHITECHAPEL
+ Carnifex
+ Adept
+ Rise Of The Northstar
+ Walking Dead On Broadway
21.04.2015 DE - Hamburg - Markthalle
22.04.2015 DE - Berlin - C-Club
23.04.2015 DE - München - Backstage
27.04.2015 DE - Nürnberg - Hirsch
28.04.2015 DE - Frankfurt - Batschkapp
29.04.2015 DE - Stuttgart - LKA Longhorn
http://smarturl.it/progression-tour

IMPERCION FESTIVALS
24.04.2015 - CH - Zürich, Komplex
25.04.2015 - D - Oberhausen, Turbinenhalle
26.04.2015 - A - Wien, Arena
30.04.2015 - F - Paris, Bataclan
02.05.2015 - D - Leipzig, Agra
03.05.2015 - NL - Amsterdam, Melkweg
04.05.2015 - UK - Manchester, Academy
http://www.impericon.com/de/festival/

WHITECHAPEL
01.05.2015 - B - Meerhout - Groezrock
"Our Endless War" erschien im Mail 2014 via Metal Blade Records. Es ist WHITECHAPELs geradlinigstes, stimmungsvollstes und emotionalstes Werk. Das Album debütierte auf #10 in den Billboard Top 200 Charts, auf #2 in den Billboard Top Independent Albums Charts, auf #1 der Billboard Hard Music Albums Charts (Aktuell) und auf #2 der Billboard Rock Albums Charts. Videos zu "Worship the Digital Age" und "Our Endless War" gibt es auf der offiziellen Playlist der Band: youtube.com/metalbladerecords.
http://www.whitechapelband.com

http://www.metalblade.com/whitechapel

http://www.facebook.com/whitechapelmetal

https://twitter.com/whitechapelband

http://instagram.com/whitechapelband