Die schwedischen Horror-Death Metal Visionäre VAMPIRE haben ein Video zu "The Fen" (vom selbstbetitelten Album der Band) gedreht. Die brilliante Arbeit wurde vom talentierten Mr. Daniel Garptoft für Dirt Frame (www.dirtframe.com) übernommen.

VAMPIREs Sänger 'Hand of Doom' kommentiert das Video: "Working with Daniel Garptoft for the first Vampire video certainly fleshed out the aesthetics already in place on our 2014 album. We wanted something that gives off a classic horror film vibe, and that resonates with the recurring style of 'Scandinavian Gothic' present in much Swedish horror and thriller fiction from recent years.
The video for "The Fen" elaborates loosely on the content of the song lyrics, but also does a good job at accentuating the moods of the music. To us in the band, it refreshes one of our favorite tracks off the album, and reinforces the status of a popular live song as an essential aspect of the Vampire experience.
I am proud to say that with the release of Daniel Garptoft's "The Fen" the Vampire logo not only stands for hair-raising music. This broadens our horizon and raises the bar for future projects."

"The Fen" Regisseur Daniel Garptoft sagt dazu: "The video for "The Fen" is where old school horror goes hand in hand with an evil soundtrack of old school death metal. Influenced by Italian horror and classics like "The Bad Seed", it portrays a gang of awkward children with sinister plans in an eerie nature setting. Our goal was to put together something that isn't your average metal video, but something else. A horror short seemed to be the perfect match to a band like Vampire that dwells anonymously away from the light."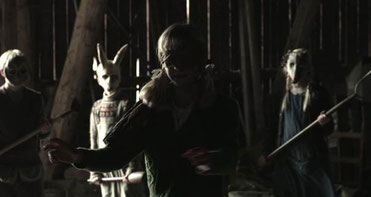 "The Fen" wird über Bloody Disgusting gezeigt. Wir empfehlen euch wärmstens, das Video anzusehen. Unter diesem Link könnt ihr es finden:

http://www.muzu.tv/vampire/the-fen-official-video-video/2364465/

Das Album "Vampire", sowie auch das Picture Vinyl Vampire's split7"-Release mit Mismal kann bei CM Distro (und anderen Mailoders/Plattenläden) gekauft werden: http://www.cmdistro.de/Search?q=vampire

Vampire haben auch den brandneuen Studiotrack "Pyre Of The Harvest Queen" veröffentlicht.

Dieser geniale Song kann bisher nur auf der "Whispers Through The Black Veil"-Compilation LP, die von Wyrd War veröffentlicht wurde, angehört werden.

Details dazu gibt es hier: http://www.wyrdwar.com/store/

VAMPIRE line-up:
Hand of Doom: Vocals
Black String: Guitars
Command: Electric Bass
Ratwing: Battery

VAMPIRE live:
27.02.2015 - S - Umeå, House of Metal
11.07.2015 - ICE - Neskaupstadur, Eistnaflug Festival

VAMPIRE online:
www.vampireofficial.com