Die deutschen Extrem-Metaller DOWNFALL OF GAIA haben sich von Gitarrist Peter getrennt. Die Band erklärt dazu: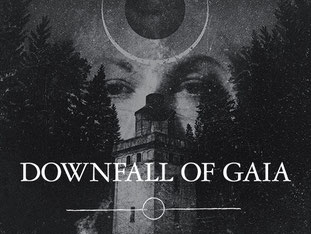 "Das Jahr geht zu Ende, und wir möchten euch allen dafür danken, dass wir 2015 so viel erlebt haben und zu tun hatten!
Europa, USA, Japan und Australia - was für ein irrer Ritt! Leider geht aber nicht nur das Jahr zu Ende … Prioritäten im Leben ändern sich, und mitunter muss man Entscheidungen treffen, um den Weg beschreiten zu können, der einem selbst am besten bekommt, auch wenn er in eine andere Richtung als jene deiner Mitmenschen verläuft. Darum müssen wir uns heute von Peter verabschieden! Wir danken ihm für die letzten sieben Jahre, die Hochs und Tiefs, seine Bereitschaft und die unvergessliche Zeit, die wir zusammen verbracht haben! Unsere letzte Show mit ihm als Gitarristen findet im April 2016 statt. Mehr Infos dazu demnächst!
Downfall of Gaia werden unentwegt weitermachen! Momentan sehen wir uns also nach einem neuen Klampfer um - jemandem aus Berlin oder Hamburg (idealerweise, aber das ist kein Muss) mit genug Zeit, Leidenschaft und dem Willen, weltweit zu touren!
Sollte das auf euch zutreffen, meldete euch über booking@downfallofgaia.com Danke!"

http://downfallofgaia.com
https://www.facebook.com/DownfallofGaia
https://www.youtube.com/user/downfallofgaiatv
---
DOWNFALL OF GAIA kündigen Europatour für August an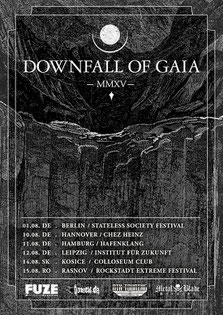 DOWNFALL OF GAIA haben eine Handvoll Gigs für August angekündigt, bitte weiterverteillen. Danke!

DOWNFALL OF GAIA
01.08.2015 - D - Berlin, Stateless Society Festival
10.08.2015 - D - Hannover, Chez Heinz
11.08.2015 - D - Hamburg, Hafenklang
12.08.2015 - D - Leipzig, Institut für Zukunft
14.08.2015 - SK - Kosice, Colloseum Club
15.08.2015 - RO - Rasnov, Rockstadt Extreme Festival

Die Band freut sich: "We are looking forward to hit the road for a few exclusive summer shows and playing some cities where we haven't been in a while!"

DOWNFALL OF GAIA werden außerdem nächste Woche Samstag ein non-profit Festival in Würzburg spielen, gemeinsam mit Oathbreaker!

27.06.2015 - D - Würzburg, TNT Open Air

"Aeon Unveils The Thrones Of Decay" ist im November 2014 über Metal Blade Records erschienen. Das Album behandelt den Lauf der Zeit und dessen Erbarmungslosigkeit, womit es eine Reise zu den dunklen Seiten darstellt, mit denen jeder von uns im Alltag hadert. Die Zeit ist ein mächtiger, nicht zu schlagender Gegner aller Menschen, die mit Verlust, unerwarteten Wendungen und misslichen Umständen klarkommen müssen. Als Sklavin der Zeit kämpft die Menschheit ständig gegen eine Uhr an. Musikalisch gibt das Album weniger Zeit zum Atmen und kehrt eine aggressivere Seite des Songwriting hervor als seine Vorgänger - eben gnadenlos und brutal wie die Zeit selbst!

"Men talk of killing time, while time quietly kills them." - Dion Boucicault

Ihr könnt das Album nach wie vor unter metalblade.com/downfallofgaia bestellen, entweder als Digi-CD oder als Gatefold-LP!

https://www.facebook.com/DownfallofGaia
http://downfallofgaia.com
https://www.youtube.com/user/downfallofgaiatv
---
DOWNFALL OF GAIA kündigen weitere Shows im April an
Im direkten Anschluß an die Co-Headlinertour mit DER WEG EINER FREIHEIT, werden DOWNFALL OF GAIA sieben weitere Headlinershows in Europa absolvieren. Hier die Dates: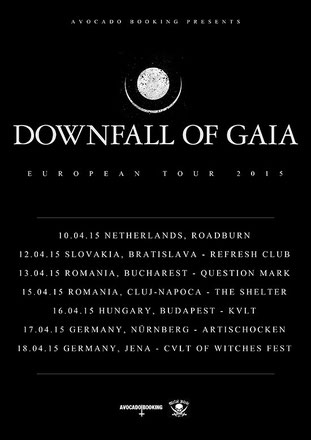 DOWNFALL OF GAIA
10.04.2015 - NL - Tilburg, Roadburn
12.04.2015 - SK - Bratislava, Refresh Club
13.04.2015 - RO - Bucharest, Question Mark
15.04.2015 - RO - Cluj-Napoca, The Shelter
16.04.2015 - HU - Budapest, KVLT
17.04.2015 - D - Nürnberg, Artischocken
18.04.2015 - D - Jena, Cvlt Of Witches Fest

DOWNFALL OF GAIA
+ Der Weg Einer Freiheit
19.03.2015 - D - Berlin, BiNuu
20.03.2015 - D - München, Feierwerk
21.03.2015 - D - Osnabrück, Bastard Club
22.03.2015 - D - Hamburg, Hafenklang
24.03.2015 - NO - Oslo, BLÅ
25.03.2015 - DK - Lyngby, Templet

26.03.2015 - NL - Rotterdam, Baroeg
27.03.2015 - D - Köln, MTC
28.03.2015 - B - Antwerp, Kavka
29.03.2015 - UK - Birmingham, The Rainbow
30.03.2015 - UK - Manchester, Roadhouse
31.03.2015 - UK - London, Our Black Heart
01.04.2015 - F - Paris, Covent Garden
03.04.2015 - E - Madrid, Sala Barracudas
04.04.2015 - E - Barcelona, Sala Begood
05.04.2015 - F - Aix En Provence, Le Korigan
06.04.2015 - F - Chambéry, Le Brin De Zinc
07.04.2015 - I - Milano, Lo Fi Club
08.04.2015 - A - Wien, Arena
09.04.2015 - D - Stuttgart, Juha West

"Aeon Unveils The Thrones Of Decay" ist im November 2014 über Metal Blade Records erschienen. Das Album behandelt den Lauf der Zeit und dessen Erbarmungslosigkeit, womit es eine Reise zu den dunklen Seiten darstellt, mit denen jeder von uns im Alltag hadert. Die Zeit ist ein mächtiger, nicht zu schlagender Gegner aller Menschen, die mit Verlust, unerwarteten Wendungen und misslichen Umständen klarkommen müssen. Als Sklavin der Zeit kämpft die Menschheit ständig gegen eine Uhr an. Musikalisch gibt das Album weniger Zeit zum Atmen und kehrt eine aggressivere Seite des Songwriting hervor als seine Vorgänger - eben gnadenlos und brutal wie die Zeit selbst!

"Men talk of killing time, while time quietly kills them." - Dion Boucicault

Ihr könnt das Album nach wie vor unter metalblade.com/downfallofgaia bestellen, entweder als Digi-CD oder als Gatefold-LP!

https://www.facebook.com/DownfallofGaia
http://downfallofgaia.com
https://www.youtube.com/user/downfallofgaiatv