Die Sensation ist perfekt! - Wien bekommt ein eigenes Rock-Festival! "ROCK IN VIENNA" sorgt im Sommer 2015 für harder sound statt Klassik-Klängen und von 04.06.-06.06.2015 auf der Donauinsel, 3 Tage lang, für eine Rockparty at its best.
U.a. mit dabei: MUSE, METALLICA und KISS!
Von 04.06. – 06.06.2015 wird die Musikmetropole Wien zum Rock-Mekka!
Griffige Texte gepaart mit handwerklichem Talent, glühende Verstärker, grandiose Rock-Klassiker und ausdrucksstarke Frontstimmen sorgen auf der Donauinsel 3 Tage lang für erstklassige Musik und jede Menge Rock´n´Roll! Auf 2 Bühnen wird bei "ROCK IN VIENNA", open air und bei optimalen Verkehrsanbindungen, mitten in der Stadt, zum Headbangen geladen. – Adrenalin pur im XXL-Format!
Niemand Geringeres als MUSE, METALLICA und KISS sind als Headliner fixiert und sorgen für spektakuläre Shows und beeindruckende Performances! Zudem sind bereits zahlreiche weitere Top-Acts bestätigt.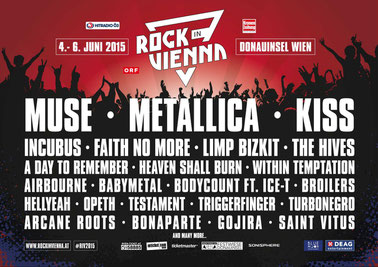 Das aktuelle Line Up gestaltet sich wie folgt:
A Day To Remember - Airbourne - Arcane Roots - BABYMETAL - Body Count ft. Ice-T - Bonaparte - Broilers - Faith No More - Gojira - Heaven Shall Burn - Hellyeah - Incubus - Kiss - Limp Bizkit - Metallica - Muse - Opeth - Saint Vitus - Testament - The Hives - Triggerfinger - Turbonegro - Within Temptation
Tickets sind unter rockinvienna.at, oeticket.com (01/96096), wien-ticket.at (01/5885), ticketmaster.at (01/253888) sowie unter bluemoon-entertainment.at erhältlich!
Infos unter: www.rockinvienna.at bzw. www.facebook.com/rockinvienna