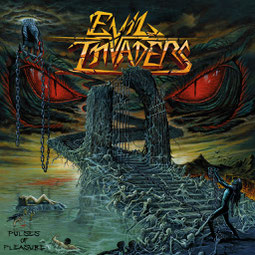 VÖ: 27.02.2015
Label: Napalm Records
Format: CD
Tracklist:
01. Fast, Loud'n Rude
02. Pulses Of Pleasure
03. Eclipse Of The Mind
04. Siren
05. Stairway To Infinity
06. Shot To Paradise
07. Venom
08. Blinded (Intro)
09. Master Of Illusion
Das full-length Debüt der Belgier von EVIL INVADERS ist eine sehr gelungene Old School-Thrash-Speed-Metal-Scheibe die sich irgendwo zwischen Annihilator (Jeff kann natürlich trotzdem niemand das Wasser reichen!) und Exodus ansiedelt. Bereits 2007 gegründet,  brachte die Band 2009 ihr Demo "D-emokill" auf den Markt um sich für Plattenfirmen interessant zu machen. 2013 erschien dann die EP "Evil Invaders" und nun erfreut sich die Fangemeinschaft an "Pulses Of Pleasure".
Gleich zu Beginn des Albums wird man von raffinierten Gitarrenriffs und dem Exodus-artigen Gesang überschwemmt und möchte eigentlich auch gleich mit dem headbanging loslegen. "Fast, Loud'n Rude" ist nicht nur der erste Tracktitel, sondern auch Programm! Das kontinuierlich schnelle Gitarrenspiel lässt kaum eine Verschnaufpause und zieht sich durch das komplette Album in konstant hoher Geschwindigkeit wie ein roter Faden.
Anfänglich scheint es erstmal etwas eintönig, da man keine Breaks zwischen den Songs merkt. Das legt sich allerdings auch schnell wieder. Der erste tatsächliche Break kommt erst bei "Blinded (Intro)", dem achten Track welcher eben das Intro zum letzten Song bildet.
Musikalisch überzeugt das Quartett definitiv! Mit "Pulses Of Pleasure" liefern unsere Landesnachbarn eine starke Scheibe ab, die die Erwartungen auf 'mehr davon' steigen lässt. Live kann man sich ebenfalls in Kürze von der Musik überzeugen lassen.
EVIL INVADERS
sind im März/Anfang April mit Majesty, sowie im Mai mit Skull Fist unterwegs. Die genauen Dates findet ihr in unseren
Tourdaten
.
(Sarah Jacob)