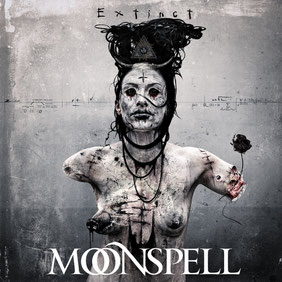 VÖ: 06.03.2015
Label: Napalm Records
Format: CD
Tracklist:
01. Breathe (Until We Are No More)
02. Extinct
03. Medusalem
04. Domina
05. The Last Of Us
06. Malignia
07. Fumeral Boom
08. A Dying Breed
09. The Future Is Dark
10. La Baphomette
Das nun bereits elfte Studioalbum der Portugiesen von MOONSPELL ist einmal mehr ein Beweis, dass man Bands nicht unbedingt in musikalische Schubladen packen kann - und vorallem nicht sollte!
Auf "Extinct" hat sich das Quintett rund um Frontmann Fernando Ribeiro zum Teil neu erfunden.
Gewohnt ist man ja schon die sehr angenehme Moll-Stimme des Shouters und auch die gesungen Clearvocalpart in großer Anzahl.
Aber schon bei "Breathe (Until We Are No More)", dem ersten Stück auf "Extinct", entdeckt man dazu auch noch orientalische Einflüsse, die auf den folgenden Songs ebenfalls teils stark im Vordergrund stehen. 
Düstere Melodien und Weltuntergangs-Lyrics sorgen für eine rundum gelungene Atmosphäre, die den Hörer in den Bann der Musik zieht. 
Wer hier ein Album wie "Wolfheart" mit dem allseits beliebten "Vampiria", oder dessen Nachfolger "Irreligious" mit z.B "Opium" erwartet, der wird hier wohl enttäuscht werden. "Extinct" ist kein 'back to the roots'-Album, aber für sich genommen eine wirklich starke Scheibe! Die vorwiegend melancholisch-theatralischen Songs mit ihren überzeugenden Gitarrensoli und passenden Rhythmen versprechen höchsten Hörgenuß. Dazwischen mischen sich auch Stücke in gewohnt harter Moonspell-Manier. So macht das Album definitiv Lust auf die anstehende Europa-Tour! 
(Sarah Jacob)
Diskografie:
1995 - Wolfheart
1996 - Irreligious
1998 - Sin/Pecado
1999 - The Butterfly Effect
2001 - Darkness and Hope
2003 - The Antidote
2006 - Memorial
2007 - Under Satanae (Neuaufnahme von Under the Moonspell und Anno Satanae)
2008 - Night Eternal
2012 - Alpha Noir
2012 - Omega White
2015 - Extrinct

Lineup:
Fernando Ribeiro - Gesang
Ricardo Amorim - E-Gitarre
Pedro Paixão - E-Gitarre, Keyboard
Miguel Gaspar - Schlagzeug
Aires Pereira - Bass