Die kalifornischen Melodic-Rocker TALON, die aus der Asche von VOXEN emporgestiegen sind, kehren mit ihrem vierten Album "Fourplay" zurück ins Rampenlicht
Talon ist eine kalifornische Band die aus der Asche von Voxen entstanden ist – einer Band die Mitte der 90er Jahre internationalen Erfolg mit ihrem Album "Sacrifice" verbuchen konnte, von dem ein Song auf dem Soundtrack des Blockbusters "Outbreak – Lautlose Killer" (mit Dustin Hoffmann in der Hauptrolle) war.
Kurz darauf wurde mit Talon eine neue Vision verfolgt und mit Michael O'Mara, der zuvor u.a. mit Joshua Perahia gearbeitet und in der Band Joshua gesungen hatte, ein neuer Sänger rekrutiert. Nach einigen Demoaufnahmen wurde schließlich mit "Talon" das Debüt der Band aufgenommen. Es folgten einige großartige Konzerte inkusive des The Gods Festival in UK auf dem Talon auch das Privileg hatten, als Backing-Band für Stan Bush zu fungieren. Nach einer Pause in der die Bandmitglieder an individuellen Projekten arbeiteten, nahmen Talon ihr zweites Album "Fallen Angels" auf, bei dem der New Yorker Sänger und Komponist Chandler Mogel die Rolle am Mikro übernahm.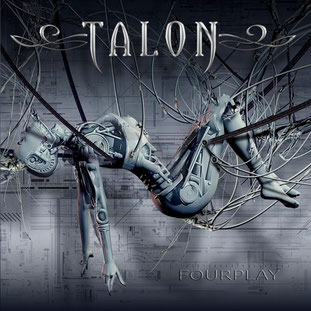 Als Chandler Mogel aufbrach um die Band Outloud anzuführen, traten der Sänger Shawn Pelata (Line of Fire) und Keyboarder Eric Ragno (zuvor u.a. bei China Blue und Takara) Talon bei. Kurz darauf wurde "III", das dritte, großartige Werk der Band, auf Escape Music veröffentlicht, was den guten Ruf der Kalifornier weiter stärkte.
2015 wird das Jahr, in dem Talon zurück zu Ihren Wurzeln gehen und wieder mit Michael O'Mara am Mikrofon ihr viertes Album veröffentlichen. Zusätzlich steuerten einige Freunde der Band etwas zum "Fourplay" bei: Der exzellente Studio- und Session-Musiker Tim Pierce (Bon Jovi, Ozzy Osbourne, Santana, Elton John u.a.) übernahm die Lead Gitarre auf zwei Tracks und Pete Fry (Far Cry, RocKarma) griff bei einem weiteren Track in die Saiten.
Mit fantastischen Tracks wie dem emotionalen "Tonight", dem in-your-face-Knaller "Evil", dem dreckig groovendem "Holly Would" und dem energetischen Spaßmacher "Spun" wird "Fourplay" sicherlich auf einigen Melodic Rock/AOR-Bestenlisten 2015 auftauchen.
Auch werden Talon bald mit ihrem neuen Album im Gepäck unterwegs sein und zurück ins Rampenlicht kehren!
Talon – Fourplay (Escape Music/H'Art) – VÖ: 20.03.2015
https://www.facebook.com/pages/Talon-Official/166176213429236