'When The Stillness Comes', der erste neue SLAYER-Song seit beinahe einem Jahr, wird im Rahmen des diesjährigen Record Store Day am 18. April veröffentlicht, wie SLAYER und Nuclear Blast heute verkünden. Der Track erscheint gemeinsam mit einem Live-Mitschnitt von 'Black Magic', vom 1983er Album »Show No Mercy« - die Aufnahme entstand beim Wacken Open Air 2014. Strikt limitiert auf 5.000 Exemplare weltweit, wird die 7" Picture Disc exklusiv in allen teilnehmenden Independent Plattenläden auf der ganzen Welt erhältlich sein. Surft auf www.recordstoreday.com, um die Liste der Shops einzusehen.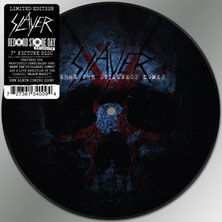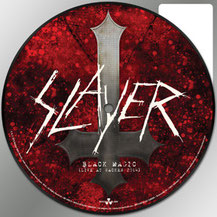 SLAYER - Tom Araya, Kerry King und Paul Bostaph - nahmen 'When The Stillness Comes' letztes Jahr in Los Angeles mit Produzent Terry Date auf. Derzeit befindet sich die Band bei den letzten Arbeitsschritten zum Nachfolger des 2009 erschienenen, für einen Grammy nominierten Albums »World Painted Blood«, das noch dieses Jahr erscheinen soll.
ÜBER SLAYER:
Greg Kot von The Chicago Tribune schrieb über SLAYER, die bereits 5x für einen Grammy nominiert wurden und ihn bereits 2x gewannen: "[SLAYER is] one of the great American rock bands of the last 30 years, forget about genre." Ihre Zugehörigkeit zu "The Big Four" - METALLICA, SLAYER, MEGADETH und ANTHRAX - den vier Bands, die das Thrash/Metal-Genre definierten - sichert ihren Platz in der Musikgeschichte. In der Tat schaffen es nur wenige Bands, die gleiche Intensität auf die Bühne zu transportieren wie SLAYER, die bereits von mehreren Medien als "Best Live Band" gekürt wurde (u.a. Revolver, SPIN und Metal Hammer).
Mit Songs, die die Wirren und Verirrungen unserer Gesellschaft widerspiegeln - Gottes erschreckenden globalen Genozid, das Chaos unseres zerbrochenen politischen Systems, chemischer Kriegsführung, den abscheulichen Psychen von Serienmördern und den Horrorszenarien, die uns die Technologie viel zu nahe gebracht hat, bleiben SLAYER so hart und brutal und verweigern sich standhaft

dem Mainstream. SLAYER-Gründungsmitglied Jeff Hanneman, der 2013 verstarb, wird seitdem vom EXODUS-Gitarrist Gary Holt ersetzt. Paul Bostaph, der bereits '94 - '01 bei SLAYER Schlagzeug spielte, hat sich Basser/Sänger Tom Araya und Gitarrist Kerry King zwischenzeitlich wieder angeschlossen. SLAYER sind derzeit im Studio und nehmen ein neues Album auf, das noch 2015 erscheinen soll.