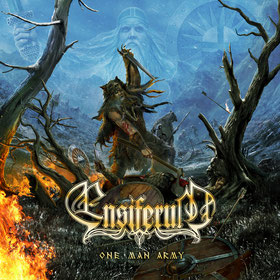 VÖ: 20.02.2015
Label: Metal Blade
Format: CD
Tracklist:
01. March of War (01:32)
02. Axe Of Judgement (04:33)
03. Heathen Horde (04:12)
04. One Man Army (04
05. Burden Of The Fallen (01:49)
06. Warrior Without A War (05:24)
07. Cry For The Earth Bounds (07:30)
08. Two Of Spades (03:39)
09. My Ancestors' Blood (04:31)
10. Descendants, Defiance, Domination (11:20)
11. Neito Pohjolan (04:10)
Das sechste Studioalbum der Finnen von ENSIFERUM kommt mit einem sehr schönen und detaillierten Cover-Artwork daher, was die Laune auf den Hörgenuß definitiv schon einmal steigen lässt.
Gebastelt wurde dieses Artwork von Gyula Havancsák, in enger Zusammenarbeit mit der Band selbst.
Beginnend mit einem schönen Intro voller Folk-Klänge wiegt man sich in den Noten bevor es einen mit "Axe Of Judgement" wieder typisch krachend von den Socken schleudert. "Heathen Horde" beginnt etwas seichter und hat viele Chöre im Song, die sich hier gut als "Truppengesang auf dem Weg in die Schlacht" einfügen. Danach dann wieder Power vom Titeltrack "One Man Army". "Burden Of The Fallen" ist eine nette Ballade, bei der sich die Ohren wieder etwas ausruhen können. "Warrior Without A War" legt dann wieder mit ordentlich Drums los. "Cry Of The Earth Bounds" beginnt mit einem Chor, zu dem sich aber dann noch die restlichen Instrumente gesellen. "Two Of Spades" schreddert auch gleich wieder los und "My Ancestors' Blood" hängt sich dabei direkt ein. "Descendants, Defiance, Domnation" bildet einen beschaulichen Abschluss des Albums. Nun ja... Ensiferum-beschaulich eben...
Aber halt! Einen gibt's ja noch! "Neito Pohjolan" klingt erstmal wie ein Countrysong - gesungen von Keyboarderin Emmi Silvennoinen. Finnischer Country... Die Sprache alleine - für alle, die sie nicht sprechen - ist ja schon amüsant. Man sollte hier aber nicht das musikalische Können der Band außer betracht lassen. Wenn auch der Song so gänzlich aus der Reihe tanzt, hört man ihn sich trotzdem gerne an!
Generell beinhaltet das Album recht viele Chöre, dazu die üblichen, schönen Gitarrenmelodien, die harten und schnellen Drums, sowie Clearvocals und Screams. Eben typisch Ensiferum, aber nicht "Das klingt doch wie..."-typisch.
Es gibt Höhen und Tiefen, was das komplette Album sehr kurzweilig macht. Ich freue mich daher schon auf eine Liveumsetzung des neuen Silberlings!
(Sarah Jacob)
Diskografie:
2001 - Ensiferum
2004 - Iron
2007 - Victory Songs
2009 - From Afar
2012 - Unsung Heroes
2015 - One Man Army
Lineup:
Petri Lindroos (seit 2004) - Gesang, Gitarre
Markus Toivonen - Gitarre, Gesang
Janne Parviainen (seit 2005) - Schlagzeug
Sami Hinkka (seit 2004) - Bass, Gesang
Emmi Silvennoinen (seit 2007) - Keyboard