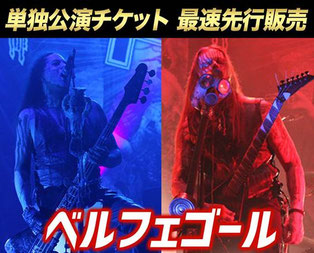 BELPHEGOR kehrt im Mai für frei Rituale nach Asien zurück. Der Trupp wird zum ersten Mal in China auftreten, gefolgt von zwei Shows in Japan:
09.05.2015 - CHN - Beijing, Yu Gong Yi Shan
12.05.2015 - JP - Tokyo, Shibuya Club Quattro
13.05.2015 - JP - Tokyo, Astro Hall
BELPHEGOR haben außerdem ein neues Live-Video veröffentlicht. Der Clip zum Titeltrack des aktuellen Albums "CONJURING THE DEAD" wurde auf dem Loud Park Festival in Tokio, am 19. Oktober 2014 aufgenommen. Zu sehen gibt es das Video hier: https://www.youtube.com/watch?v=LTbzich1t70 (Live footage courtesy of WOWOW On-Air "Loud Park 14 Special" broadcast. Live Sound: Norwin Palme/ FOH.)
Serpenth kommentiert:
"The ingenious Loud Park festival last year was an excellent experience. We're looking forward to coming back to Tokyo in May and marching into China for the very first time. Expect Diabolical Death Musick".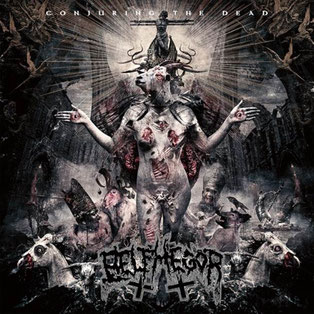 ---
BELPHEGOR kündigen "Conjuring The Dead"-World Tour an
Mit ihrem neuen Meisterwerk »Conjuring The Dead«, das am 08. August 2014 erschien, erlebte das diabolischen Death/Black Metal Schwadron BELPHEGOR einen wahrhaften Siegeszug.
Neben dem Einstieg auf Platz #60 der deutschen Albumcharts, konnte sich der Longplayer auf einem bemerkenswerten Platz #33 in der österreichischen Heimat der Band behaupten.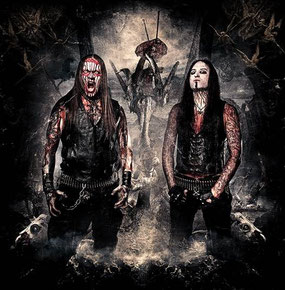 Desweiteren knackte das Album auch die Charts in den USA und Kanada:
USA: #13 Heatseekers #52 Hard Music
Canada: #58 Hard Music
Nun kündigen BELPHEGOR ihre "Conjuring The Dead"-World Tour an. BELPHEGOR werden an der Seite der schwedischen Black Metaller MARDUK Ende Februar/Anfang März durch Europa touren.
Zudem werden BELPHEGOR auf zahlreichen internationalen Festivals auftreten - erste Termine findet ihr unten.
Band Mastermind Helmuth dazu: "What an intense line-up it is! Death/Black Metal supporters can expect a night to remember. Extreme audio soundwalls will skullfukk your ears and the venues will be drowned in darkness. Join the Rituals and glorify brutal Musick with us!!"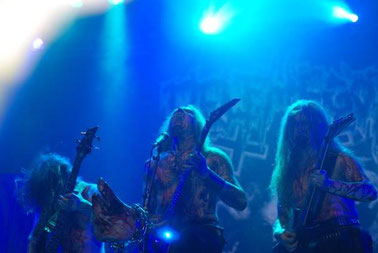 BELPHEGOR + MARDUK + SUPPORTS:
19.02.2015 - NL - Rotterdam, Baroeg
20.02.2015 - NL - Eindhoven, Effenaar
21.02.2015 - NL - Sneek, Het Bolwerk
22.02.2015 - B - Vosselaar, Biebob
23.02.2015 - UK - Plymouth, The Hub
24.02.2015 - UK - Manchester, Academy
25.02.2015 - UK - Glasgow, Audio
26.02.2015 - UK - London, Underworld
27.02.2015 - F - Paris, Divan du Monde
28.02.2015 - CH - Monthey, Pont Rouge
01.03.2015 - F - Toulouse, Dynamo
03.03.2015 - E - Madrid, Caracol
04.03.2015 - E - Barcelona, Apolp
05.03.2015 - F - Montpellier, Secret Place
06.03.2015 - I - Turin, Café Liber
07.03.2015 - I - Brescia, Circolo Colony
08.03.2015 - SLO - Nova Corica, Mostovna
BELPHEGOR live:
04.04.2015 - ZA - Johannesburg/ Gauteng Province, Witchfest Open Air
10.04.2015 - A - Kufstein, Kulturfabrik
11.04.2015 - DK - Aarhus, Royal Metal Fest
24.04.2015 - D - Dettelbach, Metal Franconia Festival
25.04.2015 - D - Oberhausen, Helvete Club
06.06.2015 - IND - Bangalore, Bangalore Open Air
03.07.2015 - D - Roitzschjora, With Full Force Knüppelnacht (Tickets)
11.07.2015 - NL - Hollandscheveld, Graveland Festival
07.08.2015 - UK - Derbyshire, Bloodstock Open Air
14.08.2015 - CZ - Hodonin, Made Of Metal
15.08.2015 - D - Dinkelsbühl, Summer Breeze (Tickets)
28.08.2015 - D - Crispendorf, Wolfszeit Festival