In genau vier Wochen steigt in der Bochumer Matrix DAS Festival für alle Anhänger des Sleaze und Glam Rock!
Zum Lineup dürfen sich zum Beispiel die selbsternannte europäische #1 des Horrorpunk, THE OTHER, zählen.
Die Band ist bereits seit 2002 auf den größten Bühnen (z.B. Wacken, Summer Breeze, Amphi Festival, etc.) unterwegs und begeistert ihre Anhänger mit ihrer Musik.
Außerdem gibt es noch die ebenfalls in 2002 gegründete Band CRAZY LIXX aus Schweden. die die Fans auch nach diversen Besetzungswechseln noch immer in ihren Bann ziehen können.
Als Headliner sei dann noch mal eben nebenbei STEVE SUMMERs erwähnt. Der Ex-Pretty Boy Floyd-Fronter gibt beim SLEAZE FEST "all PBF-Classics and more!!!" zum Besten! Man darf sich also auf eine geniale Show freuen!
Hier gibt es den offiziellen Festivalteaser: http://vimeo.com/108042519 und hier geht's zum offiziellen Facebook-Event: https://www.facebook.com/events/850377848307163/

Und das komplette Lineup gibt es hier: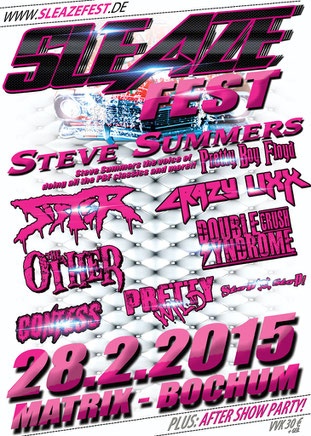 Einlass ist ab 16:00 Uhr
Beginn ist um 16:30 Uhr
Die Tickets können hier erworben werden und kosten sparsame 30,- €!!
Als Special gibt es noch eine geniale Aftershow-Party im Rockpalast der Matrix.
Seid dabei und verpasst dieses Event auf keinen Fall!
Aus sicherer Quelle ist bekannt, dass "der Kartonboden der Tickets" bereits in greifbarer Nähe ist. Also sichert euch noch schnell eure Karten, damit ihr nicht vor ausverkaufter Halle steht!
Veranstalter Bastian von Madhouse Promtotion hat uns zum Fesitval noch ein paar Fragen beantwortet.
Das kurze Interview könnt ihr hier lesen.
Links:

https://www.facebook.com/glamfest.official