Nach ganzen neun Jahren Bandgeschichte und vier erfolgreichen Studioalben präsentiert die Melodic Hard Rock/Metal-Band EDEN'S CURSE nun ihr erstes Live-Album.
Ursprünglich als Studioprojekt ins Leben gerufen, hat sich die Formation im Laufe der Zeit zu einem erstklassigen und ambitionierten Liveact entwickelt. Eine U.K. Tour mit Stratovarius machte den Anfang, Konzerte mit Dream Theater folgten. Besonders in den letzten zwei Jahren vergrößerte sich die Anzahl von EDEN'S CURSE Live-Aktivitäten. Nach einigen erfolgreich absolvierten Festivalgigs fasste man den Entschluss, erstmals eine sieben Konzerte lange Headliner-Tour im Vereinigten Königreich zu buchen.
Nach vier erstklassigen und international mit großem Lob bedachten Studioalben gab aber letztendlich die EDEN'S CURSE Fanbase den Anstoß, denn man wollte auch die älteren Songs des Bandrepertoires von Neu-Sänger Nikola Mijic intoniert hören. Nach einer schweißtreibenden Show im Rahmen der 'Symphony Of Sin UK Tour'' in London, dann der spontane Entschluss, ein Livealbum als nächstes Projekt anzugehen.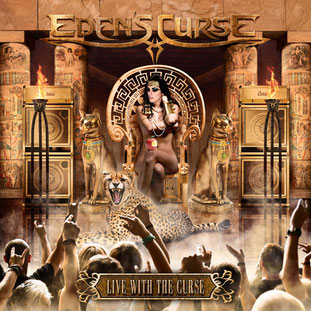 Classic Rock Magazine-Schreiber Dave Ling war ebenfalls zugegen und berichtete später: "... When everything clicked into gear, the full force of the magnificence of Eden's Curse became evident. Serbian front man Nikola Mijic has a warm, rich voice that complements the material". Und weiter "... a regal encore of 'Judgement Day', 'Evil & Divine' and 'Angels & Demons' set the seal on a truly excellent performance".
Wer EDEN'S CURSE kennt, der weiß um den hohen Qualitätsanspruch, den die Band an sich selbst stellt. Und 'Live With The Curse' ist da keine Ausnahme. Die Aufnahmen fanden am 28. November 2014 im Rahmen einer EDEN'S CURSE Headlinershow im "The Classic Grand" in Glasgow statt.
Fans aus ganz Europa und sogar Asien reisten nach Schottland, um dabei sein zu können. Und was mehr braucht man als ein enthusiastisches Publikum und eine hochmotivierte Band?
Die Setlist setzte sich aus Fan-Favoriten und Bandklassikern der Alben 'Eden's Curse' (2007), 'The Second Coming' (2008), 'Trinity' (2011) und dem aktuellen Werk 'Symphony Of Sin' (2013) zusammen.
Mix und Mastering übernahm erneut Denis Ward (Pink Ceam 69, Unisonic), der den Vibe und die Energie des Konzertes perfekt zur Geltung bringt. Und eine weitere Konstante bei EDEN'S CURSE: Thomas Ewerhard (Edguy, Avantasia) erstellte das Coverartwork.
'Live With The Curse' kommt nun in Form von 2 CDs, mit gut 100 Minuten Spielzeit daher und wird am 13. März veröffentlicht. Genau rechtzeitig zu den EDEN'S CURSE Konzerten mit Freedom Call in Deutschland und den Niederlanden:
12.03.2015 - D - Frankfurt, Nachtleben
13.03.2015 - D - Memmingen, Kaminwerk
14.03.2015 - D - Siegburg, Kubana
15.03.2015 - NL - Uden, De Pul
17.-18.07.2015 - S - Väsby, Väsby Rock Festival
Tracklist:
CD 1:
01. Symphony Of Sin
02. Break The Silence
03. Masquerade Ball
04. Black Widow
05. Trinity
06. Fly Away
07. Just Like Judas
08. Fallen From Grace
09. Jerusalem Sleeps
10. Guitar Solo
11. Time To Breathe
CD 2:
01. Rock Bottom
02. Devil In Disguise
03. Wings To Fly
04. No Holy Man
05. Unbreakable
06. Judgement Day
07. Band Introductions
08. Evil & Divine
09. Angels & Demons