Lange dauert's nicht mehr, bis STORMHAMMER ihr 5. Album veröffentlichen!
 
"Echoes Of A Lost Paradise" wurde im Münchener Dreamsound Studio von Mario Lochert gemischt und von Jan Vacik gemastert.
Das fantastische Artwork stammt von Jan Yrlund (Darkgrove.net).
 
Die Band hat nun die komplette Tracklist des Albums enthüllt: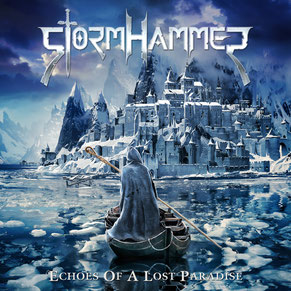 01. Remembrance
02. Glory Halls Of Valhalla
03. Fast Life
04. Echoes Of A Lost Paradise
05. Leaving
06. Bloody Tears
07. Holy War
08. Black Clouds
09. Into Darkest Void
10. Promises
11. Stormrider
12. The Ocean
Den Song "Bloody Tears" kann man sich bereits hier in seiner ganzen Pracht anhören: https://youtu.be/xzBJfviGEuQ

Live gibt es STOMHAMMER dieses Jahr unter anderem auf dem Out & Loud Festival, dem Aaargh Festival sowie dem Bonebreaker Festival auf die Augen und Ohren.
STORMHAMMERs neues Album "Echoes Of A Lost Paradise" erscheint am 12. Juni 2015 bei Massacre Records und wird auch als limitierte Vinyl LP erhältlich sein.
STORMHAMMER Live
05.06.2015 - D - Geiselwind, EventZentrum Strohofer Geiselwind (Out & Loud Festival)
12.06.2015 - D - Uttenhofen, Aaargh Festival
10.07.2015 - A - Salzburg, Rockhouse Bar
05.09.2015 - D - Kleinwenkheim, Alter Sportplatz "Gock" (Bonebreaker Festival)
28.11.2015 - D - München, Backstage
Links
http://www.stormhammer.de
http://www.facebook.com/stormhammerband
http://twitter.com/StormHammerBand
http://www.youtube.com/channel/UCse2QaL9LqKOo2DMAEyUBCw
http://open.spotify.com/artist/7oalTbZg7phQZJZr0TsMIW
---
STORMHAMMER werden ihr neues und fünftes Album namens "Echoes Of A Lost Paradise" im Sommer 2015 bei Massacre Records veröffentlichen
Die aus München stammende Band wurde 1993 gegründet und hat erst kürzlich die neuen Bandmitglieder Jürgen Dachl (Vocals), Bernd Intveen (Gitarre) und Chris Widmann (Drums) vorgestellt.
Beeinflusst durch ihre vorherige Arbeit in anderen Metal-Genres wird sich auch das Soundgewand von STORMHAMMER ein wenig verändern!
Die Band befindet sich derzeit in der letzten Phase der Albumaufnahmen.
Believe us, the Hammer is coming!