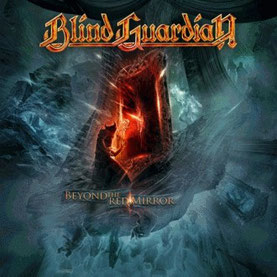 VÖ: 30.01.2015
Label: Nuclear Blast
Format: CD
Tracklist:
01. The Ninth Wave (9:29)
02. Twilight Of The Gods (4:51)
03. Prophecies (5:27)
04. At The Edge Of Time (6:55)
05. Ashes Of Eternity (5:39)
06. The Holy Grail (6:02)
07. The Throne (7:56)
08. Sacred Mind (6:25)
09. Miracle Machine (3:03)
10. Grand Parade (9:29)
Ein weiteres Meisterwerk der deutschen Metallegenden Blind Guardian erreicht die sehnsüchtig wartenden Fans! Bereits durch die erste Singleauskopplung und diverse Preview-Shots/Trailer (wir haben berichtet...) konnte man sich ein gutes Bild über diesen neuen Silberling machen.

Das erste Stück, "The Ninth Wave", beginnt mit einem orchestralen Intro und schwimmt dann so durch die Boxen dem Hörer entgegen. Beim Nachfolger "Twilight Of The Gods" wusste man ja, wie bereits erwähnt, schon bescheid, wo der Frosch die Locken hat. "Prophecies" knüpft hier auch wieder sehr gut an und führt diese Linie mit Kraft und Tempo fort. "At The Edge Of Time" schlägt zunächst gemütliche, ruhige Töne an, wird dann aber wieder schneller. Man bleibt allerdings im guten unteren Mittelfeld der Geschwindigkeit. Hier steht auch klar das Orchester im Fokus des Songs. Mit "Ashes of Eternity" geht's dann wieder ordentlich zur Sache. Genauso wie mit dem folge Track "The Holy Grail". Spätestens jetzt bekommt man richtig Lust sein Haupthaar zu schwingen! "The "Throne" ist auch wieder ein sehr schöner Kandidat für eine Singleauskopplung (also Jungs, falls ihr das lesen solltet... nur so als Tipp ;-)). "Sacred Mind" kommt erstmal recht gemächlich daher legt aber auch wieder ordentlich an Geschwindigkeit zu. Mit "Miracle Machine" findet sich das wohl langsamste Stück des Albums. Nur sachte durch Klavier und hier und da ein paar Streicher untermalt. Zum Ende gibt's dann nochmal richtig was auf die Ohren. "Grand Parade" bietet einen gelungenen Abschluß und zählt so, mit 9:29 Minuten, zusammen mit dem ersten Titel zu den längsten beiden Stücken auf "Beyond The Red Mirror". Insgesamt findet man hier viele Orchesterparts die, meines erachtens, mehr im Vordergrund stehen, als sie es bei Blind Guardian bisher taten. Passt aber auch alles gut ins Konzept.
Hier gilt ganz klar: back to the roots! Blind Guardian knüpfen da an, wo sie zB mit "Imaginations From The Other Side" Mitte der 90er aufgehört hatten. Geschichtlich hüpfte man dort durch verschiedene Türen durch die Welten hin und her, nun gilt es auf "Beyond The Red Mirror" das eine verbliebene Tor zwischen den Welten, den roten Spiegel, zu finden. Die Storys von "Bright Eyes" und "And The Story Ends" werden hier ebenfalls wieder aufgegriffen und fortgeführt. "Beyond The Red Mirror" klingt dabei aber keinesfalls altbacken oder langweilig. Blind Guardian haben sich mit diesem Album schon ein Stück weit neu erfunden, aber trotzdem wieder zu den Wurzeln zurück gefunden. Diese Mischung macht das Album in jedem Fall sehr hörenswert! Macrus Siepen und André Olbrich zeigen einmal mehr, was sie am 6-Saiter zaubern können, Drummer Frederik Ehmke trommelt die passenden Rhytmen dazu und Hansi Kürschs Stimmt erkennt man ohnehin unter tausenden!
Fans werden sich die Scheibe sicherlich schon längst vorbestellt haben, aber auch allen anderen sei dieser Silberling wärmstens ans Herz gelegt!
(Sarah Jacob)
Das Album kann hier direkt bei Amazon gekauft werden.
Line up:
Hansi Kürsch - Vocals
André Olbrich - Guitars
Marcus Siepen - Guitars
Frederik Ehmke - Drums