KoRn revitalisierten ein ganzes Genre, das zu Beginn der 90er als höchst uncool galt: Heavy Metal.
Mit ihrem Sound avancierten KoRn zu den wichtigsten Protagonisten des Genres. Mehr als 35
Millionen verkaufte Tonträger und zwei Grammys untermauern ihre innovative Kraft. Dieses Potenzial
zeigt sich auch auf ihrem mittlerweile elften Album "Paradigm Shift", das Ende 2013 erschien. Mit
Rückkehrer Brian "Head" Welch an ihrer Seite besinnen sich KoRn auf ihre alten Stärken. Bevor 2015
das neue Studioalbum erscheint, kommen KoRn für eine exklusive Show ins Kölner Palladium, um ihr
20-jähriges Bestehen mit ihren deutschen Fans zu feiern.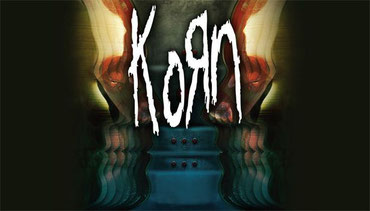 Sie sind Vollblutmusiker seit Kindesbeinen. Sänger Jonathan Davis, die Gitarristen James "Munky" Shaffer und Brian "Head" Welch, Bassist Reginald "Fieldy" Arvizu und Drummer David Silveria begannen ihre musikalische Laufbahn bereits als Teenager. Shaffer, Arvizu und Welch spielten in einer
Band, und auch der damals 13-jährige Silveria war Mitglied eines gemeinsamen Projektes. Als man ihnen den charismatischen, mit einer unglaublichen Bühnenpräsenz gesegneten Sänger Jonathan Davis empfahl, waren KoRn geboren. Schnell fand das Quintett eine gemeinsame künstlerische Sprache. Gelangweilt von den aktuellen Rockklängen einerseits und dem Dasein als frustrierte Jugendliche in einem Vorort andererseits, schufen sie einen Sound des Widerstands: Sie kombinierten die Wut und Wucht brachialer Metal-Musik mit tief tönender Düsternis. Verbunden mit expressionistischen Ausbrüchen in Richtung Hip-Hop, Hardcore und Noiserock schufen KoRn auf
diese Weise ein neues Genre.

Ihr selbstbetiteltes Debütalbum erzeugte 1994 gewaltiges Interesse an diesem wütenden Echo. Die Nachfolger "Life Is Peachy" (1996), "Follow The Leader" (1998), "Issues" (1999), "Untouchables" (2002), "Take A Look In The Mirror" (2003), "See You On The Other Side" (2005) demonstrierten nicht nur ihre enorme Schaffenskraft, sondern stehen ebenso für den ungebremsten Erfolg von KoRn: Nahezu jedes Album erreichte die Top 3 der US-Charts.

2005 stieg Brian "Head" Welch aus und KoRn arbeiteten als Quartett weiter. 2007 ersetzte Schlagzeuger Ray Luzier David Silveria. Es folgten "Untitled" (2007), "Korn III: Remember Who You Are" (2010) und "The Path Of Totality" (2010), das selbst eingefleischte Fans überraschte. Das Album wich deutlich vom bisherigen Stil ab, da sie für die Produktion Kollaborationen mit jungen DubStep-Produzenten eingingen. Das Resultat ist eine einzigartige, aufregende Melange aus Metal, Dance- und kantigen DubStep-Sounds.

2012 wurden die Zuschauer des Carolina Rebellion Festivals Zeugen einer triumphalen, tränenreichen Reunion, als Brian "Head" Welch seinen legendären Part im Song "Blind" zum Besten gab. Nach Heads Rückkehr begab sich die Band Anfang 2013 zusammen mit Produzent Don Gilmore (Linkin Park, Three Days Grace) ins Studio. Ohne sich vorher abgesprochen zu haben, waren sie sich über das gemeinsame Ziel einig, die beste Platte ihrer Karriere zu schreiben. Das Ergebnis auf "Paradigm Shift" sind elf Songs, die den einzigartigen, ursprünglichen KoRn-Sound mit neuen Elementen kombinieren. Aktuell laufen die Arbeiten für den nächsten Longplayer, mit dem KoRn 2015 das
Album-Dutzend voll machen. Doch zuvor spielen sie weltweit einige ausgesuchte Konzerte, um ihr 20-jähriges Jubiläum mit einem fulminanten Live-Ritt durch ihre Karriere zu feiern.

KORN Live:
16.01.2015 - UK - Sheffield, Motorpoint Arena
18.01.2015 - UK - Glasgow, The Hydro
19.01.2015 - UK - Newcastle, Metro Radio Arena
20.01.2015 - UK - Manchester, Manchester Arena
22.01.2015 - UK - Liverpool, Echo Arena
23.01.2015 - UK - London, Wembley SSE Arena
24.01.2015 - UK - Cardiff, Motorpoint Arena Cardiff
26.01.2015 - UK - Nottingham, The Capital FM Arena
27.01.2015 - UK - Birmingham, Barclaycard Arena
29.01.2015 - NL - Groningen, De Oosterpoort en de Stadsschouwburg
30.01.2015 - D - Köln, Palladium
01.02.2015 - I - Milan, Alcatraz
02.02.2015 - I - Rom, Atlantico
04.02.2015 - LUX - Luxembourg, Le Rockhall
19.06.2015 - B - Dessel, Graspop Metal Meeting
20.06.2015 - B - Dessel, Graspop Metal Meeting
21.06.2015 - F - Clisson, Hellfest
21.06.2015 - B - Dessel, Graspop Metal Meeting
16.06.2015 - E - Viveiro, Resurrection Fest
17.06.2015 - E - Viveiro, Resurrection Fest
18.06.2015 - E - Viveiro, Resurrection Fest