Bestellung des Antichristen...
NECROWRETCH's neues Album "With Serpants Scourge" kann ab sofort vorbestellt werden. CM Distro bietet das Album als recht günstiges Jewelcase und auf 180 g Vinyl inkl. A3 Poster: http://smarturl.it/wssCMDISTRO

Aufgepasst! Es gibt eine exklusive LP Version auf dunkelgrünem Vinyl! Diese Version ist weltweit auf nur 100 Exemplare limitiert. Be quick or burn in everlasting fire.
Besessen von Satan und mit dem Drang eines der blasphemischsten Alben, die jemals auf französischem Boden aufgenommen wurden, bringen NECROWRETCH alle ihre finsteren Mächte zusammen und spucken neun Tracks, tropfend von völliger Gotteslästerung, Verdorbenheit und Niedertracht die ihresgleichen suchen, aus. Das Album wurde von Patrick W. Engel in den Temple Of Disharmony Studios (Necrophobic, Sezierung, Asphyx, Necros Christos und viele mehr) gemastert.
Wenn ihr die beiden neuen Tracks, "Feast Off Their Doom" und "Even Death May Die", noch nicht gehört habt, klickt hier:

https://soundcloud.com/centurymedia/necrowretch-feast-off-their-doom/s-tRGib

https://soundcloud.com/centurymedia/necrowretch-even-death-may-die

Öffnet die Tore der Hölle und tretet der Gemeinde des schwarzen Tods bei...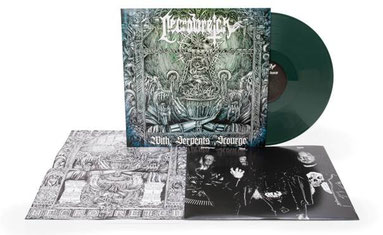 "With Serpents Scourge" tracklisting:
01. Black Death Communion
02. Feast Off Their Doom
03. With Serpents Scourge
04. By Evil And Beyond
05. The Bells Of Evil Schism
06. He Thrones On Thy Sins
07. Even Death May Die
08. Infernal Imprecation
09. Mortem Ritu
NECROWRETCH Line-Up:
Vlad - Gitarren, Gesang
Amphycion - Bass
Ilmar - Schlagzeug
NECROWRETCH online:
---
NECROWRETCH - neues Album im Februar, neuer Song und Cover Artwork veröffentlicht
Wenn Satan die Antwort ist...

Die Nachricht machte bereits die Runde, aber wir wollen es offiziell machen: "With Serpents Scourge", das zweite Werk der diabolischen NECROWRETCH wird am 16. Februar über Century Media Records veröffentlicht. Das Album wird es auf CD, LP (inkl. A3 Poster) und als digitalen Download geben. Der Vorverkauf beginnt am 19. Januar. Für die Vinyl Sammler: verpasst nicht das Album auf dunkelgrünem Vinyl! Diese Version ist weltweit auf nur 100 Stück limitiert und kann ausschließlich an CM Distro erworben werden!

NECROWRETCH haben einen weiteren Titel des neuen Albums veröffentlicht. Hört euch "Feast Of Their Doom" hier an: https://soundcloud.com/centurymedia/necrowretch-feast-off-their-doom/s-tRGib

Besessen von Satan und mit dem Drang eines der blasphemischsten Alben, die jemals auf französischem Boden aufgenommen wurden, bringen NECROWRETCH alle ihre finsteren Mächte zusammen und spucken neun Tracks, tropfend von völliger Gotteslästerung, Verdorbenheit und Niedertracht die ihresgleichen suchen, aus. Das Album wurde von Patrick W. Engel in den Temple Of Disharmony Studios (Necrophobic, Sezierung, Asphyx, Necros Christos und viele mehr) gemastert.

Be prepared for the storm of the Antichrist.

Die zuvor veröffentlichten Album-Track "Even Death May Die" finden Sie hier: https://soundcloud.com/centurymedia/necrowretch-even-death-may-die
"Even Death May Die" ist auch auf dem gleichnamigen 7inch Vinyl, das auch eine Coverversion von Slayer's "Black Magic" enthält. Die begrenzten farbigen Vinyls sind längst vergriffen, aber die letzten Exemplare der schwarzen Vinyl-Version stehen jetzt zum Verkauf bei CM Distro: http://www.cmdistro.de/Search?q=necrowretch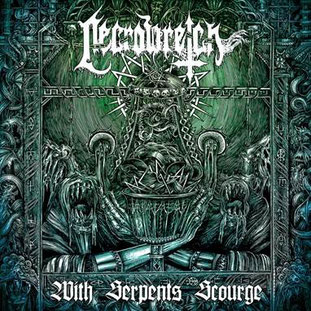 "With Serpents Scourge" tracklisting:
01. Black Death Communion
02. Feast Off Their Doom
03. With Serpents Scourge
04. By Evil And Beyond
05. The Bells Of Evil Schism
06. He Thrones On Thy Sins
07. Even Death May Die
08. Infernal Imprecation
09. Mortem Ritu

NECROWRETCH Line-Up:
Vlad - Gitarren, Gesang
Amphycion - Bass
Ilmar - Schlagzeug

NECROWRETCH online:
http://www.facebook.com/NecroWretch