Impera ist eine schwedische Melodic Rock "Supergroup" bestehend aus einem Gitarristen welcher mühelos atemberaubende Soli und Riffs von echtem Schrot und Korn abliefert sowie einem stampfenden Bass, der Dich durch die Wand drückt. Dazu fügt man einen glühenden Drummer, der sowohl solide als auch technisch herausfordernd spielt und einen Sänger, welcher die Konkurrenz in Grund und Boden singt. Kein Keyboarder, kein Unsinn und keine Faxen – einfach Rock 'n Roll!

Die Band besteht aus Musikern welche sich ihre Lorbeeren durch viele Jahre harter Arbeit mit einer beeindruckenden Zahl weltbekannter Stars verdient haben. Ihre Lebensläufe lesen sich wie ein "Who Is Who" der heutigen Rock-Musik. In verschiedenen Konstellationen haben sie mit Vinnie Vincent und Bruce Kulick von KISS gespielt, mit Brian Robertson von Thin Lizzy, John Leven von Europe (der einen Gastauftritt auf dem neuen Album hat) und vielen mehr. Gitarrist Tommy Denander hat neben seinen Solo-Alben mit Mitgliedern von TOTO auf vielen Alben von Künstlern wie Michael Jackson, Paul Stanley, Alice Cooper und Ricky Martin gespielt.
"Wir haben alle wegen KISS angefangen zu spielen", sagt Johan Kihlberg. "Wir sind große KISS-Fans, Sammler und sogar gute Freunde von ihnen. KISS ist der Grund dafür, dass wir entdeckten wie großartig Rock 'n Roll ist. Ihrer Tradition folgend, kann man auf eine atemberaubende Bühnenshow zählen, inklusive Feuerwerk, Nebel und dem Ausbruch der Hölle! Die Menge an Schießpulver die wir in einer einzigen Show verfeuern, würde die Verteidigung eines kleinen europäischen Landes in den Schatten stellen."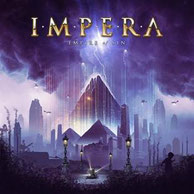 Als "Legacy of Life" (ESM244) im Oktober 2012 erschien waren alle vom frischen Sound der vier Jungs begeistert. Der Nachfolger "Pieces of Eden" (ESM259) war eine großartige Fortführung des kraftvollen Quartetts und führte uns direkt ins Jahr 2015, in dem das neue Album "Empire of Sin" auf uns los gelassen wird. Dieses Mal wenden sich Impera mit Songs wie "The Beast Is Dead" und "Don't Stop" dem temperamentvollen Hard Rock zu. John Leven (Europe) tritt als Gast bei "Thunder In Your Heart" auf, einem Song an welchem er ebenfalls mitgeschrieben hat.
Impera sind gereift, haben ihren Sound bis zur Perfektion gehont und liefern nun mit "Empire of Sin" ihr bisher bestes Werk ab.
Impera – Empire of Sin (Escape Music/H'Art) – VÖ: 23.01.2015
https://www.facebook.com/pages/Impera/329944293762910