ANCIENT RITES' neues Album "Laguz" wird am 20. Februar 2015 bei Massacre Records erscheinen!
Produziert wurde das Album von Christian "Moschus" Moos, das Mastering übernahm Eroc. Oliver Phillips ist für die Orchestrierung verantwortlich.
Das Artwork stammt von Gunther Theys, dem Sänger der Band.
"Laguz" wird auch als limitiertes Digipak mit exklusivem Video erhältlich sein.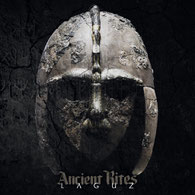 Die Tracklist sieht wie folgt aus:
01. Golden Path To Samarkand
03. Under The Sign Of Lagoz
04. Von Gott Entfernt (Bij Nacht En Ontij)
05. Apostata (Imperator Fidelis)
06. Legio V Alaudae (Fifth Larks Legion)
07. Mind Unconquered
08. Umbra Sumus (We Are Shadows)
09. Frankenland
10. Fatum (Ill Fate/Noodlot)
Live Dates:
30.05.2015 - B - Genk, Rondpunt 26
14.-16.08.2015 - F - Saint-Nolff, Motorcultor Festival
 
Links:
http://www.ancientrites.be

http://www.facebook.com/ancientrites

http://twitter.com/ancientrites

---
ANCIENT RITES unterschreiben bei Massacre Records
Das Quartett aus Belgien und den Niederlanden wurde in den 80ern gegründet und war eine der ersten Bands, die Metal mit okkulten und historisch inspirierten Texten in einer Zeit, die von Glam und Alternative Musik geprägt war, spielte.
In den vergangenen Dekaden überwand die Band viele Schicksalsschläge, wie zum Beispiel Mitglieder, die verstarben oder schlechte Erfahrungen mit Promotern und Labels.
Aber all das stoppte die Band nicht, ihre Reise fortzusetzen!
Das kommende, sechste Studioalbum namens "Laguz" markiert ein neues Kapitel für die Band.
Es ist eine Einladung, durch düstere sowie durch die Geschichte inspirierte Texte und heftigem Metal gepaart mit klassischer Orchestrierung, längst vergessene Welten wieder zu entdecken.
ANCIENT RITES' neues Album "Laguz" wird Ende Februar 2015 bei Massacre Records erscheinen.
Live Dates
30.05.2015 - B - Genk, Rondpunt 26
14.-16.08.2015 - F - Saint-Nolff, Motorcultor Festival
Line-up
Gunther Theys - Vocals
Erik Sprooten - Guitars
Domingo Smets - Guitars
Walter Van Cortenberg - Drums
http://www.facebook.com/ancientrites

http://twitter.com/ancientrites