Wir erinnern uns: SNOT waren kurz davor, den ganzen Erdball mit ihren groovigen und infektiösen Crossover-Klängen zu erobern. Ihr Debüt (und bis heute einziges Studioalbum) "Get some" traf 1997 voll den Nerv der Zeit und ließ die Band in ihrem Heimatland USA schnell zu Big Players avancieren.
Doch als 1998 mit dem Songwriting für ein zweites Album begonnen wurde, starb der ikonische Frontmann Lynn Strait tragischerweise bei einem Autounfall in Los Angeles. SNOT lösten sich auf.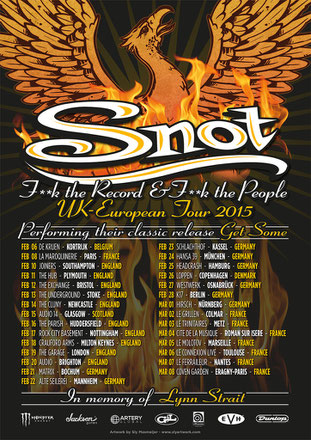 Es erscheint wie eine unlösbare Aufgabe, Lynns überlebensgroße Schuhe zu füllen – eine Aufgabe, der sich SNOT nichtsdestotrotz gestellt haben!!! Im Gedenken an ihren Freund und Bandkollegen fand kürzlich eine höchst erfolgreiche U.S.-Tour statt, bei der Carl Bensley (Vitiate, Consume The Fire) hinterm Mikrofon stand. Hier kann man sich davon überzeugen, wie hervorragend Carl die Songs von "Get some" live umsetzt:
https://www.youtube.com/watch?v=_5UWWvsO1i8

Gitarrist Mikey Doling kommentiert: "Wir sind wie Brüder und wollten einfach wieder zusammen jammen. Wir haben da etwas Cooles, wir haben SNOT, und wir haben ein tolles Vermächtnis mit der Killer-Scheibe "Get some". Also warum sollten wir nicht rausgehen und rocken? Und es hat sich herausgestellt, dass die Leute uns sehen und die Songs live hören wollen. Deshalb machen wir genau das, mit dem größtmöglichen Respekt vor Lynn natürlich."
Hier zollen u.a. OZZY OSBOURNE, SYSTEM OF A DOWN, KORN und INCUBUS der unvergleichlichen Band Respekt: https://www.youtube.com/watch?v=aDQrEALj8Ao

Im Februar kommt endlich auch Deutschland zu der Ehre, SNOT erstmals live erleben zu dürfen: die Kalifornier performen im Februar "Get some" auch bei uns!
21.02.2015 - Bochum, Matrix
22.02.2015 - Mannheim, Alte Seilerei
23.02.2015 - Kassel, Schlachthof
24.02.2015 - München, Hansa 39
25.02.2015 - Hamburg, Headcrash
28.02.2015 - Berlin, K17
01.03.2015 - Nürnberg, Hirsch