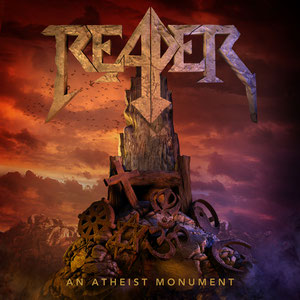 VÖ: 25.07.2014

Label: Massacre Records

Format: CD

Tracklist:
01. Hetoimasia (2:20)
02. Realms of Chaos (5:40)
03. Of Sheep and Shepherds (4:44)
04. Horse Brigade (5:25)
05. Hail the New Age (5:36)
06. Voice Within (5:13)
07. 1943 (6:10)
08. Well of Poison (6:13)
09. Taste My Revenge (4:17)
10. Ship of Fools (5:54)
11. Fields of Joy (4:57)
12. La Tristesse (7:55)
Die neue Reaper-Scheibe "An Atheist Monument" beginnt mit einem Instrumental bei dem man gleich zu hören bekommt, was auf der CD geboten wird: raffinierte Riffs und fetzige Drums.
Dazu kommen die Lyrics durch Daniel Zimmermanns kräftige Stimme vertont und so ergibt sich aus dieser Kombination klassischer Heavy Metal. Sehr abwechslungsreich mit tollen mid- und uptempo Stücken. So kann keine Langeweile entstehen.
Vergleichbar ist "An Atheist Monument" vielleicht sogar mit Grave Digger, was wohl auch daran liegt, dass Reaper ebenfalls aus Deutschland stammen.

Auch wenn es die Band nun schon seit sage und schreibe 30 Jahren gibt, haben sie mit "An Atheist Monument" erst ihr fünftes Album auf dem Markt geschmissen. Das verwundert mich sehr, da man es hier nicht mit Ecksparten- oder Randgruppen-Metal zu tun hat, sondern gerade dieser klassische Heavy Metal bei vielen Fans anklang findet. So sollte auch dieses Album bald in sehr vielen CD-Regalen zu finden sein. Warum diese Band offenbar so lange unentdeckt bleiben konnte, ist mir allerdings auch schleierhaft. Ich hoffe, dass sich dies in Zukunft noch ändern wird!

Gemixt wurde die Scheibe übrigens von Michael "Mu" Murauer, der schon für eine ganze Latte an Künstlern an den Reglern saß. Gemastert hat hier Andy Horn.
(Sarah Jacob)
Das Album kann hier direkt bei Amazon gekauft werden.

Lineup:

Daniel Zimmermann - Lead Voc. / Git.
Matthias Kraft - Bass / Back. Voc.
Benni Lodewig - Git. / Back. Voc.
Jan Breede - Drums
Diskografie:
1990 -Beyond All Time
1992 - The Years Within
2000 - Cardinal Sins
2009 - Gardens of Seth
2014 - An Atheist Monument