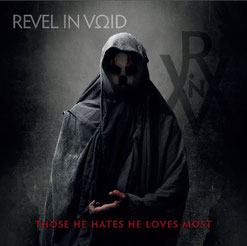 VÖ: 27.09.2014

Label: Kraftritter Records

Format: CD
Tracklist:
01. In Black Holes
02. Black Rain
03. Darkness
04. His Inner War
05. Perpetuity
06. Nocturnal Hunter
07. The Dark Den
08. Waiting For The End
09. Oxymoron
REVEL IN VOID - wer ist das eigentlich? Fangen wir doch erst mal kurz damit an. Die Gelsenkirchener Band besteht aus drei Musikern, die sich zusammen getan haben um eben genau das zu machen: Musik! Und mit "Those He Hates He Loves Most" ist ihnen auch eine wirklich tolle Scheibe gelungen!

Insgesamt besteht das Erstlingswerk aus neun Stücken die dem 'Dark Symgressive Metal'-Genre angehört. Bitte was? Richtig. Die Facebook-Seite der Band beschreibt diesen Zustand wie folgt: "DSM ist von einer inhärenten Leidenschaft vorwiegend destruktiver Emotionen genährter Metal. Lyrisch in die Tiefen archaischer und solipsistischer Weltanschauungen abtauchend." Alles klar? Wem das nun immer noch nicht weiter hilft, dem sei gesagt, dass sich alle Songs auf dieser CD in tief-düsteren Melodien bewegen, die Unterstützt vom Gesang des Bonner Metal-Urgesteins Guido Meyer de Voltaire (Bethlehem, Aardvarks & Co.) eine gewisse Dramatik oder Melancholie hervorbringen. Dies kann man vielleicht bei ein paar Tracktiteln schon erahnen: "In Black Holes", "Black Rain", "Darkness", "The Dark Den". Alles eben ziemlich schwarz und düster.

Dazu hört man auch besonders beim Track "The Inner War" diese innere Zerrissenheit ("Engelchen & Teufelchen") und den Kampf mit sich selbst sehr schön raus. Ob Clearvocals, vereinzelte Growls oder auch etwas gesprochener Text, hier bekommt man von Anfang bis Ende eine schön mystische Atmosphäre geboten, die einen in die Lyrics und die Musik eintauchen lässt.

Eigentlich muss man gar nicht so viel sagen, außer, dass diese Debütscheibe eine sehr gelungene ist, die man sich auf jeden Fall ins CD-Regal stellen sollte! Ich wünsche schon mal viel Hörvergnügen und freue mich derweil schon mal auf weitere musikalische Ergüsse aus dem Ruhrpott!
(Sarah Jacob)

Line-Up:

Guido Meyer de Voltaire (Gesang)
Marcel Schiborr (Gitarre, Bass, Keys)
Daniel Dickmann (Drums)