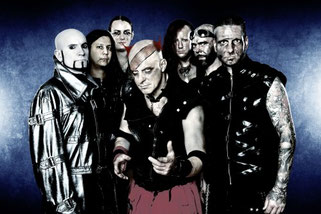 TANZWUT sind zurück; böser, schwärzer und härter als jemals zuvor.
Keine andere Band schaffte es bisher, Moderne und Historie so dermaßen gut zu verknüpfen, wie Frontmann Teufel und seine Mannen. Mit "Freitag der 13." steht am Freitag, dem 13. Februar 2015 ein völlig neues Album ins Haus. Was man aber jetzt schon weiß: es wird mystisch, hart und melodisch, genauso wie man TANZWUT kennt und schätzt. Die Produktion wirkt noch professioneller, während die Spielleute an den Instrumenten einen teuflisch guten Job machen, den man derzeit in der schwarzen Szene vergebens sucht. Passenderweise machen exakt 13 Titel diese CD zur Vollbedienung für jeden Fan der Mittelalterrockmusik.
Das neue Video zum Titeltrack könnt ihr euch hier anschauen: https://www.youtube.com/watch?v=ke5BtmHtsyQ

---
TANZWUT - Details zu "Freitag der 13." & Tourdaten
Das neue Rockalbum von TANZWUT "Freitag der 13." wird am 13.02.2015 erscheinen, als Digipak oder als wunderschöne limitierte Deluxe Buchedition (36-seitiges Buch mit exklusivem Artwork, Album plus Bonus CD mit Remixen und Gastauftritten u.a. von Lord of the Lost, Subway to Sally, Mono Inc., Rotersand und handsignierter Autogrammkarte).
Ausserdem sind die ersten Tourdaten bestätigt: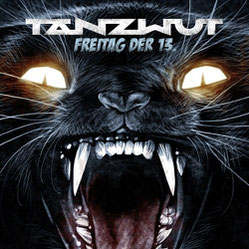 Freitag der 13. - Tour 2015
09.04.2015 - D - Aschaffenburg, Colos-Saal
10.04.2015 - D - München, Backstage
11.04.2015 - A - Wien, Szene
16.04.2015 - D - Bochum, Matrix
17.04.2015 - D - Siegburg, Kubana
18.04.2015 - D - Berlin, C-Club
23.04.2015 - D - Nürnberg, Hirsch
24.04.2015 - D - Dresden, Puschkin
25.04.2015 - D - Magdeburg, Factory
26.04.2015 - D - Rostock, M.A.U. Club
30.04.2015 - D - Querfurt, Burg
01.05.2015 - D - Losheim, Hexentanz Festival
Präsentiert von Sonic Seducer