Wie jedes Jahr laden die deutschen Horror Punks von THE OTHER rund um Halloween zur HELL NIGHTS Tour. Dieses mal gibt es ein ganz besonderes Line Up. Neben THE OTHER werden die US Death Rock Ikonen von CHRISTIAN DEATH mit dabei sein. Diese Band sollte jedem der einen Faible für die finstere Seite der Musik hat ein Begriff sein. Weitere Highlights sind die Kanadischen Rocker von NIM VIND und ARGYLE GOOLSBY aus den USA (ex Blitzkid). Alles in allem also ein wirklich lohnendes internationales Line Up, das kein Freund der düsteren Klänge verpassen sollte!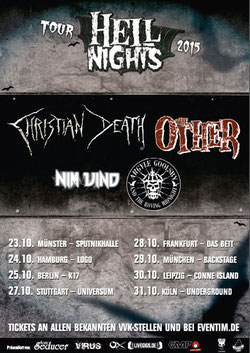 Einen Trailer gibt es hier zu sehen:
https://youtu.be/vfoEf13_Q1A

Hier die kompletten Tourdates:
HELL NIGHTS TOUR 2015
THE OTHER, CHRISTIAN DEATH
Support: NIM VIND und ARGYLE GOOLSBY
23.10.2015 - D - Münster, Sputnikhalle
24.10.2015 - D - Hamburg, Logo
25.10.2015 - D - Berlin, K-17
27.10.2015 - D - Stuttgar, Universum
28.10.2015 - D - Frankfurt, Das Bett
29.10.2015 - D - München, Backstage
30.10.2015 - D - Leipzig, Conne Island
31.10.2015 - D - Köln, Underground

Tickets an allen bekannten VVK Stellen.
Einige Shows sind bereits fast ausverkauft! JETZT Tickets sichern.
---
THE OTHER - neues Album und Tourdates
Europas bekannteste Horrorpunks melden sich in wenigen Wochen mit einem Donnerschlag zurück. Nach dreijähriger Pause erscheint am 19. Juni (22.6. EU) das neue Album "Fear Itself" auf Steamhammer/SPV als CD und Doppel-LP.
Sänger Rod Usher kündigt Großes an: "Vom klischeehaften besten Album der Bandgeschichte mag ich nicht sprechen. Aber ich denke, dass "Fear Itself" sich bestimmt nicht hinter seinen beiden erfolgreichen Vorgängern verstecken muss ....im Gegenteil".
Erste Höreindrücke bestätigen, dass der Frontmann hier eher tief stapelt und die Gruselrocker einen wirklichen Meilenstein zusammengezimmert haben, der von Produzenten-Guru Waldemar Sorychta (Moonspell, Tiamat, Sodom) mit einem eindrucksvoll wuchtigen Sound versehen wurde. Ein echtes Monster eben!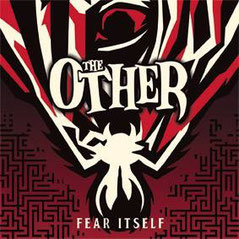 Doch nicht nur die Hitdichte ist gegeben, auch die Abwechslung wird erneut groß geschrieben. Dass THE OTHER das Genre, an dessen Popularität sie großen Anteil haben, ständig mit weiterentwickelten und dessen Grenzen ausloten, ist bekannt. Auch wenn das Horror-Quintett mehr denn je Punkrock, Metal und Gothic vermischt, ist für Rod Usher eines klar: "Wir nennen es weiterhin Horrorpunk. Sicher ist unser Sound heute abwechslungsreicher als früher und wir haben wieder ein paar schöne Überraschungen auf unsere neue Scheibe gepackt, aber die Wurzeln sind weiterhin offensichtlich."
Fans können sich also auf ein Werk freuen, das die Band erneut weiterentwickelt zeigt, ohne die vergangenen fünf Alben zu ignorieren.
An der Live-Front tut sich auch einiges. Hier die bereits bestätigten Showdates:
25.05.2015 - D - Wave Gotik Treffen, Leipzig
04.07.2015 - D - Castle Rock Festival, Mülheim a.d. Ruhr
08.08.2015 - D - Sons of Anarchy Convention, Oberhausen/Turbinenhalle
09.08.2015 - D - Mera Luna Festival, Hildesheim
23.10.2015 - D - Münster, Sputnikhalle*
24.10.2015 - D - Hamburg, Logo*
25.10.2015 - D - Berlin, K17*
26.10.2015 - tbc
27.10.2015 - tbc
28.10.2015 - D - Frankfurt, Das Bett*
29.10.2015 - D - München, Backstage*
30.10.2015 - D - Leipzig, Conne Island*
31.10.2015 - D - Köln, Underground*
* mit Christian Death, Nim Vind, Argyle Goolsby

THE OTHER – UK Tour:
09.11.2015 - GB - Manchester, Tiger Lounge
10.11.2015 - GB - Leicester, The Shed
11.11.2015 - GB - Nottingham, The Old Angel
12.11.2015 - tbc
13.11.2015 - GB - London, The Purple Turtle
14.11.2015 - GB - Brighton, The Green Door Store


www.facebook.com/theotherhorrorpunk

---
THE OTHER launchen Youtube-Channel mit Bericht zum Weekend Of Horrors
Neuigkeiten von den Gruselrockern von THE OTHER!
Mit neuer Mannschaft gehen die Kölner Monster von The Other ins Jahr 2015. Im 13. Jahr der Bandgeschichte haben sich die Jungs um Frontsänger Rod Usher und die Verstärkung an Gitarre und Bass (Pat Laveau - Git. und Aaron Torn - Bass) für die nächsten Monate viel vorgenommen. Aktuell werkelt das Quintett an Songs für das neue Album, welches im Februar unter der Regie von Waldemar Sorychta (Tiamat, Moonspell, Sodom) eingehämmert wird.

Parallel ging der eigene youtube-channel online, auf dem The Other nicht nur bisherige Videoclips und Live-Mitschnitte servieren, sondern auch in Zukunft spezielle Reportagen, wie aktuelle vom renommierten Weekend of Horrors, bei dem Rod Usher als Stargast geladen war: https://www.youtube.com/watch?v=96i3rHmpbXs

Last but not least: The Other Shirts gibt es - neben den aktuellen Alben der Band - nicht mehr nur bei Gigs der Horrorpunks sondern nun auch bei EMP.​
Mehr THE OTHER News, bereits bestätigte Festivaldates für 2015 und vieles mehr findet ihr hier:
www.facebook.com/theotherhorrorpunk