Die New York Hardcore Legende MADBALL und die Manga Mosh Metaller RISE OF THE NORTHSTAR haben angekündigt, im Februar 2015 gemeinsam in Europa zu touren!
MADBALL-Front-Ikone Freddy Cricien: "Rebellion number 6! Crazy to think that we're going 6 years strong with this brand... obviously we couldn't do it without all our supporters! This year we kept with the theme of some "older school" bands along with some "new blood". That's pretty much what rebellion is about, bringing together the different generations. I look forward to this one and this time we're bringing rebellion to Spain which we've been wanting to do."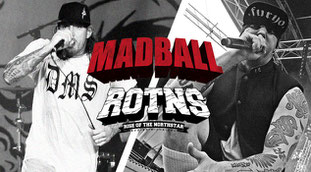 RISE OF THE NORTHSTAR kommentieren: "ROTNS is honored to be part of this Rebellion Tour alongside NYHC legends MADBALL. We are ready to kill and to demonstrate our Samurai Spirit, Dressed All In Black."
Die sechste Auflage der jährlichen "Rebellion Tour" wird am 17. Februar in Berlin starten und bis 1. März andauern. Währendessen werden die Bands in Deutschland, Frankreich, Spanien und Portugal aufspielen.
Beide Bands haben 2014 die heftigsten Hardcore-Alben des Jahres vorgelegt - holt Euch »Hardcore Lives« von MADBALL und »Welcame« von RISE OF THE NORTHSTAR in verschiedenen Formaten hier!
Auf YouTube gibt es zudem die aktuellsten Clips von MADBALL und RISE OF THE NORTHSTAR:
MADBALL:
'Doc Marten Stomp' video: http://youtu.be/b5RQhAPygXE

'Born Strong' video: http://youtu.be/lLes0J8AwDY

'DNA' lyric video: http://youtu.be/wwfBjZ24Hvo


RISE OF THE NORTHSTAR:
'Dressed All In Black' stream: http://youtu.be/XeNyEiRD_es

'Simon Says' stream: http://youtu.be/LIrpcLmuGjY

'Welcame' video: http://youtu.be/IW_y31bRW3M

'Phoenix' video: http://youtu.be/VpdypIjj0oY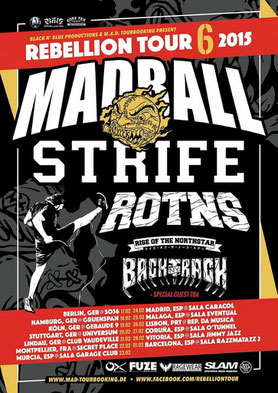 REBELLION TOUR 6
MADBALL
STRIFE
RISE OF THE NORTHSTAR
BACKTRACK
+ guests
17.02.2015 - D - Berlin, SO36
18.02.2015 - D - Hamburg, Grünspan
19.02.2015 - D - Köln, Gebäude 9
20.02.2015 - D - Stuttgart, Universum
21.02.2015 - D - Lindau, Club Vaudeville
22.02.2015 - F - Montpellier, Secret Place
23.02.2015 - E - Murcia, Sala Garage Club
24.02.2015 - E - Madrid, Sala Caracol
25.02.2015 - E - Malaga, Sala Eventual
26.02.2015 - P - Lisbon, Rep. Da Musica
27.02.2015 - E - Coruña, Sala O'Tunnel
28.02.2015 - E - Vitoria, Sala Jimmy Jazz
01.03.2015 - E - Barcelona, Sala Razzmatazz 2