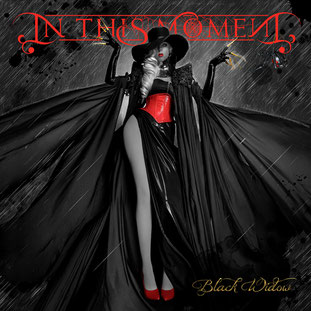 VÖ: 14.11.2014
Label: Atlantic Records
Format: CD
Tracklist:
01. The Infection (1:49)
02. Sex Metal Barbie (4:22)
03. Big Bad Wolf (5:12)
04. Dirty Pretty (4:07)
05. Black Widow (4:58)
06. Sexual Hallucination (featuring Brent Smith) (6:18)
07. Sick Like Me (5:00)
08. Bloody Creature Poster Girl (4:20)
09. The Fighter (4:52)
10. "Bones (4:30)
11. Natural Born Sinner (5:09)
12. Into the Darkness (2:52)
13. Out of Hell (6:34)
Mit "Black Widow" bringen IN THIS MOMENT ihren bereits fünften Langspieler auf den Markt und machen dem mysterium der Männermordenden Bestie alle Ehre. Es war vermutlich kein Zufall, dass man sich diese Spinne als Thema des Albums aussuchte.
Schon das Intro "The Infection" klingt wie eine Spinne, die sich über ihr Frühstück her macht. Die einen sagen, die Band ist im Metalcore-Sektor angesiedelt."Black Widow" zeigt mir abermals, dass die musikalische Ähnlichkeit eher bei Künstlern wie Marilyn Manson zu suchen ist. Der Titeltrack "Black Widow" wird eingeleitet von einem Nachrichtensprecher, der auch immer wieder ein Teil während des Songs ist. Die elektronischen Einflüsse sind auch immer wieder stark in die einzelnen Tracks involviert.
Zum Track "Sexual Hallucination" haben sich IN THIS MOMENT Unterstützung von Shinedown-Leadsänger Brent Smith geholt, der ein beeindruckendes Duett mit Maria Brink zum Besten gibt. "The Fighter" ist die klassische Ballade, die zwar auch einen gefährlichen, dunklen Unterton hat, sich aber perfekt in die anderen Songs einfügt.
Ob mit Clearvocals oder Screams, mit oder ohne Voice-Effect, Maria überzeugt gänzlich als Frontfrau und bringt mehr als authentisch die Inhalte der Songs zum Besten. Unterstützt wird das ganze durch die raffinierten Melodien die das Album zu einem großen Ganzen machen. Alles in allem erzeugen die Songs eine Fantasiewelt in der man sich verlieren kann. Die CD regt auf jeden Fall dazu an, sie öfter hören zu wollen und man entdeckt hier und da immer wieder Elemente, die die Songs aufs Neue interessant werden lassen. Schon der Vorgänger "Blood" klang erwachsen und war vermutlich daher so erfolgtreich. Mit "Black Widow" legt die Band aber nochmal eine Schippe Erfahrung oben drauf und beweist damit, dass sie längst zu den Größen der Musikwelt gehören.

Meiner Meinung nach, ist "Black Widow" das bisher stärkste Album der Kalifornier und sollte sich auf jeden Fall gekauft werden. Ebenso ist die Band im nächsten Jahr auf Europatour und wird hier natürlich einige der neuen, nebst diverser Stücke der vergangenen Alben zum Besten geben. Die genauen Daten dazu findet ihr unter unseren Tourdaten.
(Sarah Jacob)

Das Album kann hier direkt bei Amazon gekauft werden.

Lineup:
Maria Brink – vocals, piano
Chris Howorth – lead guitar, backing vocals
Travis Johnson – bass guitar
Randy Weitzel – rhythm guitar
Tom Hane – drums
Diskografie:
2007 - Beautiful Tragedy
2008 - The Dream
2010 - A Star-Crossed Wasteland
2012 - Blood
2014 - Blood at the Orpheum (Live Album)
2014 - Black Widow