Alle Jahre wieder kommt nicht nur das Christkind, sondern auch die EMP Persistence Tour. Die Konzerte finden seit 2005 in auserwählten Städten der Republik als auch in angrenzenden Staaten statt. Die musikalische Zusammenkunft bietet den Anhängern der Hardcore- und Punkreligion eine festliche Abspeckmesse nach der weihnachtlichen Völlerei und dem feuchtfröhlichem Jahreswechsel.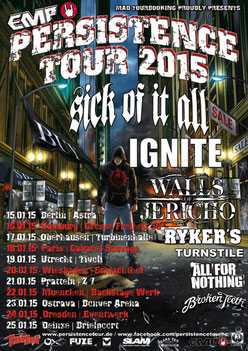 Auch diesmal trommelte der Veranstalter wieder eine Horde ambitionierter Musiker aus aller Welt zusammen, die dem neuem Jahr bereits zu Beginn kräftig in den Popo treten werden. Headliner sind in diesem Jahr SICK OF IT ALL. Die us-amerikanischen Hardcore-Urgesteine gehören quasi zum Inventar der Persistence Tour. Bereits zum vierten Mal spielen sie im Rahmen des Festivals. Neben alten Stücken dürfen sich die Fans auch auf viele neue Stücke freuen. Das neue Album "Last Act of Defiance" entstand 2014.
Ebenfalls mit von der Partie sind die Kalifornier IGNITE. Auch diese gehören zu der Geschichte der Persistence Tour und treten zum dritten Mal auf. Ihr letztes Album "Our Darkest Days" entstand 2006. Ob das Melodic-Hardcore Ensemble ihre Fans mit neuen Werken bei ihren Auftritten beglücken werden, gilt es es gespannt abzuwarten.
WALLS OF JERICHO sind auch seit Jahren zu Gast auf der Persistence Tour, so auch in 2015. Mit Frontfrau Candace Kucsulain dürfen sich die Fans auf Metalcore und Hardcore vom Feinsten freuen. Auch wenn das letzte Album "The American Dream" schon knapp sieben Jahre alt ist, dürfte der Auftritt der Amerikaner dennoch die Masse mit ihren bereits erprobten Stücken zum Moshen bringen.
Ebenfalls auf der Bühne werden die Kassler Hardcore Jungs RYKER'S stehen. Die Band existiert seit 1992. Sie treten zum ersten Mal bei der Persistence Tor auf. Ihr letztes Album "Hard to the Core (?)" entstand 2014. Als besonderes Schmankerl wiederveröffentlichten die Hessen in diesem Jahr zudem ihr Album Life's a Gamble... And So Is Death von 1999 – auf Kassette.
Ein weiteres Highlight der Persistance Tour sind TURNSTILE. Die Hardcore-Combo aus Baltimore gruppierten sich 2010. Bis jetzt veröffentlichte die Band drei Alben. Zudem traten die Jungs als Vorband im Rahmen der ""20TH ANNIVERSARY "SET IT OFF" TOUR 2014" der Altpunker Madball auf.
Last but not Least geben sich die Niederländer ALL FOR NOTHING die Ehre. Die Punkband um Sängerin Cindy van der Heijden besteht seit 2002 und veröffentliche bereits acht Studioalben. Ihr neuesten Album "What Lies Within Us" erschien 2014.
Als letzte im Bunde sind die Hardcore-Musiker BROKEN TEETH!. Die Band stammt aus Manchester in Großbritannien. Wie der Name schon verrät, wird hier kein Helene Fischer Fan glücklich. Drei Alben veröffentlichten die Briten bereits. Auf der Persistence Tour werden sie als erstes die Bühne betreten und den Startschuss geben.
In insgesamt elf Städten findet die EMP Persistence Tour statt:
15.01. Berlin – Astra (DE)
16.01. Hamburg – Grosse Feriheit 36 (DE)
17.01. Oberhausen – Turbinenhalle (DE)
18.01. Paris – Bataclan (FR)
19.01. Utrecht – Tivoli (NL)
20.01. Wiesbaden – Schlachthof (DE)
21.01. Pratteln – Z7 (CH)
22.01. München – Backstage (DE)
23.01. Ostrava – Trojhali Karolina (CZ)
24.01. Dresden – Event Werk (DE)
25.01. Deinze – Brielpoort (BE)
Die Tickets kosten um die 30 Euro und können über die Seite des Festivals bestellt werden. (http://persistencetour.de/pages/tickets.htm)
(Antje Ritter)