Die Death Metaller SUICIDE SILENCE aus dem kalifornischen Riverside, ihre Nachbarn aus San Diego, CARNIFEX sowie die Manga Mosh Metaller RISE OF THE NORTHSTAR sind für die 2015er Ausgabe der renommierten Impericon Progression Tour bestätigt worden. Daten + Poster finden sich weiter unten.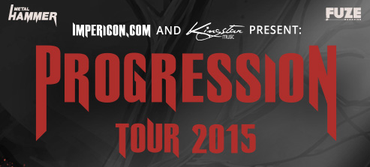 SUICIDE SILENCE-Sänger Eddie Hermida kommentiert: "We are stoked to be on next years Impericon Progression Tour with so many amazing bands! Joining us will be our Nuclear Blast brethren RISE OF THE NORTHSTAR and CARNIFEX. Come get your dose of heavy hardcore then lose your mind with us! See you soon, motherfuckers!"
CARNIFEX-Frontman Scott Lewis erklärt: "We're very excited to be returning to Europe with long time friends and brutally heavy label mates SUICIDE SILENCE and RISE OF THE NORTHSTAR on the Progression Tour. This tour is not to be missed, we look forward to giving all our fans a sick night of metal!"
Und RISE OF THE NORTHSTAR fügen an: "We're thrilled to bring our blend Of 90s metal and Japanese themed hardcore to the masses alongside our label mates in SUICIDE SILENCE and CARNIFEX. Whatever the genres, we're all here to Kill. Bring back the Furyo Style!"
Alle drei Band haben 2014 wahre Abrissbirnen an Alben veröffentlicht - holt Euch hier Eure Dosis Hass.
SUICIDE SILENCE auf YouTube:
'Inherit The Crown' music video: http://youtu.be/lKLlLizGjvM

'You Can't Stop Me' music video: http://bit.ly/ss-ycsm-video

'Don't Die' lyric video: www.youtube.com/watch?v=jjrhcczyf8Y

'Cease To Exist' lyric video - www.youtube.com/watch?v=D-uqrYLIzXI

CARNIFEX auf YouTube:
'Hatred And Slaughter' music video: http://youtu.be/pjjhoQWX408

'Dark Days' Lyric Video: http://youtu.be/By0LmL9aPG0


'Dragged Into The Grave' Lyric Video http://youtu.be/b1hafyakGXE