"The Judgement" wurde von Axel "A.J." Julius im s1s Studio aufgenommen, produziert und gemischt; das Mastering übernahm Svante Forsbäck bei Chartmakers. Anestis Goudas ist für das Coverartwork verantwortlich.
 
Die Tracklist von "The Judgement" sieht wie folgt aus: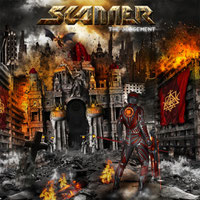 01. Intro
02. F.T.B.
03. Nevermore
04. Warlord
05. Eutopia
06. The Judgement
07. Batlle Of Poseidon
08. Pirates
09. Known Better
10.The Race
11. The Legionary
Das Album bietet eingängige Songs, die zum mitgrölen einladen; High-Speed-Metalgranaten und auch Songs, die an Hymnen erinnern.
SCANNERs neues Album "The Judgement" erscheint am 23.01.2015 bei Massacre Records.
Live Dates
24.01.2015 - D - Bochum, Rockpalast
07.02.2015 - GR - Thessaloniki, Eightball Live Stage
08.02.2015 - GR - Athen, Kyttaro Live Club
Links