Nachdem sie diesen Sommer einen Vertrag bei Nuclear Blast Entertainment unterschrieben und eine erfolgreiche Headliner absolviert hat, kündigt die aus Südkalifornien stammende, vierköpfige Hatecrew NAILS ihre Rückkehr nach Europa für März 2015 an.
Die Band wird als Support der Los Angeles-Hardcore-Band TERROR unterwegs sein. Ebenfalls mit von der Partie sind die belgisch, niederländischen REDEMPTION DENIES sowie die deutsche Hardcore Truppe RISK IT.
Dazu Sänger & Gitarrist Todd Jones: "Im März 2015 kommen wir nach Europa. Unser letzter Ausflug dorthin, war erfolgreicher, als wir es uns jemals hätten vorstellen können. Daher nutzen wir die Chance, an der Seite der grandiosen Band TERROR zurückzukehren. Das ist die perfekte Kombination für jeden Mosh Pit. Wir sehen uns bald."
Dieses brutale Packet könnt ihr euch bei folgenden Terminen geben: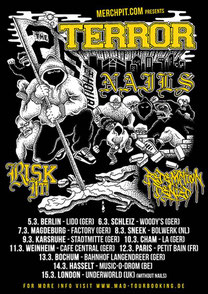 05.03.2015 - D -  Berlin, Lido
06.03.2015 - D - Schleiz, Woodys
07.03.2015 - D - Magdeburg, Factory
08.03.2015 - NL - Sneek, Bolwerk
09.03.2015 - D - Karlsruhe, Stadtmitte
10.03.2015 - D - Cham, La Cafe
11.03.2015 - D - Weinheim, Cafe Central
12.03.2015 - F - Paris, Petit Bain
13.03.2015 - D - Bochum, Bahnhof Langendreer
14.03.2015 - B - Hasselt, Music O Drom
15.03.2015 - UK - London Underground (without NAILS)
Zudem haben NAILS zwei brandneue und bisher unveröffentlichte Songs rausgebracht: 'Among The Arches Of Intolerance' und 'In Pain'. Die Songs sind auf einer Flexi Disc als Beilage der neuesten Ausgabe des US T Decibel Magazins erhältlich.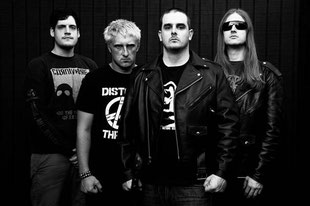 NAILS wurden 2007 gegründet und besteht aus Todd Jones, Taylor Young, John Gianelli sowie A.R. Saba. Ihre Musik kann nur als jenseits konventioneller klanglicher Brutalität bezeichnet werden. Ihre einzigartige Mischung aus Grindcore, Death Metal und Punk erweckt ungeschönte, gewaltsame Emotionen aus den Untiefen der Hörer-Hirne. Mit ihrer Authentizität, Live Shows, bei denen sie verbrannte Erde hinterlassen und der D.I.Y. Arbeitsethik haben sie eine große, loyale Fanschar gewonnen und sind eine der meistdiskutierten Bands im Underground. Der legendäre Max Cavalera erklärte erst kürzlich, dass das aktuelle Album »Abandon All Life« "eines der besten Alben der vergangenen 20 Jahre", ist und dass NAILS die "wahrscheinlich härteste Band der Stunde" sind. Prepare to be conquered!
Das bisher noch unbetitelte dritte NAILS Album ist derzeit für Herbst 2015 zur Veröffentlichung via Nuclear Blast angesetzt.