Die kalifornischen Death-Metal-Maestros SUICIDE SILENCE haben das offizielle Musikvideo zum Song 'Inherit The Crown' veröffentlicht. Surft auf: http://smarturl.it/InheritTheCrown
Der Song stammt vom aktuellen Album, »You Can't Stop Me«, das vergangenen Sommer erschien.
Produziert und gemischt von Steve Evetts (SEPULTURA, THE DILLINGER ESCAPE PLAN, WARBRINGER), ist das vierte Studioalbum auch das Debüt des neuen Frontmanns Eddie Hermida (ex-ALL SHALL PERISH) und enthält Gastauftritte von George "Corpsegrinder" Fisher (CANNIBAL CORPSE) und Greg Puciato (THE DILLINGER ESCAPE PLAN). Das Artwork stammt von Tim Minarzik von Throne Media & Design.
SUICIDE SILENCE starten zudem ihre Europea-Tour am morgigen Freitag, den 14. November im britischen Brimingham.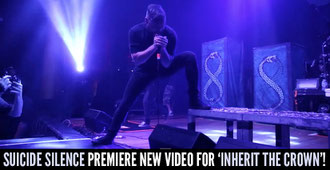 SUICIDE SILENCE
THY ART IS MURDER
14.11.2014 - UK - Birmingham, Asylum
15.11.2014 - UK - Newcastle, Riverside
16.11.2014 - UK - Glasgow, Cathouse
17.11.2014 - UK - Manchester, Academy 2
18.11.2014 - UK - Leeds, Cockpit
19.11.2014 - UK - Southampton, Mo Club
20.11.2014 - UK - Cardiff, Solus 2
21.11.2014 - UK - London, Camden Koko
22.11.2014 - F - Paris, Petit Bain
23.11.2014 - B - Antwerp, Trix
24.11.2014 - LUX - Luxembourg, Den Atelier
25.11.2014 - NL - Eindhoven, Dynamo
26.11.2014 - D - Köln, Underground/Essigfabrik
27.11.2014 - D - Hamburg, Knust
28.11.2014 - PL - Warsaw, Proxima
29.11.2014 - CZ - Ostrava, Barrak
30.11.2014 - SK - Bratislava, Randal Club
01.12.2014 - HU - Budapest, A 38
03.12.2014 - SI - Ljubljana, Kino Siska
04.12.2014 - A - Wien, Arena
05.12.2014 - I - Roncade, New Age Club
06.12.2014 - I - Gualtieri, Temporock
08.12.2014 - CH - Kofmehl, Solothurn
09.12.2014 - D - München, Backstage
10.12.2014 - D - Wiesbaden, Schlachthof*
11.12.2014 - D - Karlsruhe, Substage*
*=ohne THY ART IS MURDER
Mehr zu »You Can't Stop Me«:
'You Can't Stop Me' music video: http://bit.ly/ss-ycsm-video
'Don't Die' lyric video: www.youtube.com/watch?v=jjrhcczyf8Y
'Cease To Exist' lyric video - www.youtube.com/watch?v=D-uqrYLIzXI
Making-of »You Can't Stop Me« trailer: www.youtube.com/watch?v=2tVoI_fLbt0
Bonus DVD trailer: www.youtube.com/watch?v=blRd7urovG4
Das neue Album als CD, Digi-Pak oder Vinyl kann auf der »You Can't Stop Me« Landing Page bestellt werden: http://bit.ly/ss-ycsm-nbe
www.facebook.com/suicidesilence