DER ROCK-SOMMER 2015 MIT DER US-LEGENDE TOTO
NEUN HALLEN/OPEN-AIR-KONZERTE IM JUNI/JULI
TICKETS AB 12. NOVEMBER ERHÄLTLICH
Toto sind ein Garant für Rekorde: Zählt man alle Alben zusammen, auf denen die einzelnen Musiker der Band je gespielt haben, kommt man auf die stattliche Zahl von 5000, die sich insgesamt über eine halbe Milliarde Mal verkauft haben und für beindruckende 200 Grammys nominiert wurden. Als Band haben Toto weltweit alleine über 35 Millionen Alben abgesetzt, ihre letzte Veröffentlichung "35 Anniversary - Live in Poland" erreichte Platz 6 der deutschen Charts. Auch 37 Jahre nach dem Start sind Toto noch immer eine der gefragtesten Live-Attraktionen der Welt und eine der wenigen Bands der Siebziger, die auch nach fast vier Jahrzehnten noch immer musikalisch relevant sind und ganze Generationen von Musikern beeinflusst haben. Nach ihrer erfolgreichen Tour zum 35. Bandjubiläum im Sommer 2013 können sich die Fans der amerikanischen Rock-Legende erneut auf weitere Konzerte hierzulande freuen. Mit insgesamt neun Konzerten zelebrieren Toto den Rock-Sommer 2015 in Deutschland. Toto spielen am 10. Juni 2015 in Bremerhaven in der Stadthalle, am 11. Juni 2015 in Berlin im Tempodrom, am 12. Juni 2015 in Leipzig auf der Parkbühne, am 13. Juni 2015 in Dresden auf der Freilichtbühne Junge Garde, am 15. Juni 2015 in Köln am Tanzbrunnen, am 16. Juni 2015 in Offenbach in der Stadthalle, am 17. Juni 2015 in Killesberg auf der Freilichtbühne, am 18. Juni 2015 in Abenberg auf dem Burg Abenberg Open Air und am 8. Juli 2015 in München in der Olympiahalle.
Der allgemeine Vorverkauf beginnt am Samstag, dem 15.11.2014, um 10 Uhr. Tickets gibt es an den bekannten Vorverkaufsstellen, unter der bundesweiten Tickethotline 01806 / 999 000 555 (0,20 EUR/Verbindung aus dt. Festnetz / max. 0,60 EUR/Verbindung aus dt. Mobilfunknetz) oder im Internet unter www.ticketmaster.de. Bereits ab Mittwoch, dem 12.11.2014 - 10.00 Uhr bieten Ticketmaster und CTS Eventim Presales an.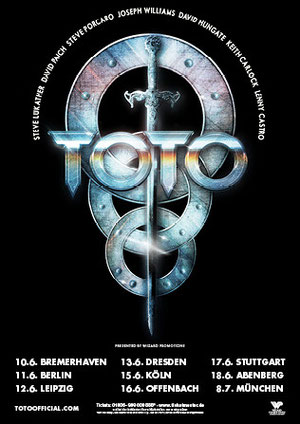 Seit der Gründung in Los Angeles 1977 hat sich die Band um Gitarrist/Sänger Steve Lukather in der Geschichte der Popkultur durch ihre zeitlosen Hits und sechs Grammy Awards einen Ehrenplatz gesichert. Die aktuelle Veröffentlichung des spektakulären Konzertes "35 Anniversary - Live in Poland" zeigt Toto in Bestform. Die abwechslungsreiche Show mit Hits und Klassikern wie "Africa", "Rosanna", "Hold The Line", "I Won't Hold You Back", "Pamela", "I'll Be Over You" oder "Hydra" verkörpert die faszinierende Mischung aus handwerklichem Geschick, Herzblut und Vitalität, allesamt typische Markenzeichen der gesamten Laufbahn dieser Band. Zurzeit bereitet sich die Gruppe auf ihr nächstes Studioalbum vor, das noch vor der kommenden Tournee auf den Markt kommen soll, ihr erstes seit "Falling In Between", das 2006 auf Platz 13 der Media Control-Charts einstieg.
TOTO - Tour 2015
10.06.2015 - D - Bremerhaven, Stadthalle
11.06.2015 - D - Berlin, Tempodrom
12.06.2015 - D - Leipzig, Parkbühne
13.06.2015 - D - Dresden, Junge Garde Freilichtbühne
15.06.2015 - D - Köln, Tanzbrunnen
16.06.2015 - D - Offenbach, Stadthalle
17.06.2015 - D - Killesberg, Freilichtbühen
18.06.2015 - D - Abenberg, Burg Abendberg Open Air
08.07.2015 - D - München, Olympiahalle
Weitere Informationen zu Toto sowie VIP Packages für die Tour unter: