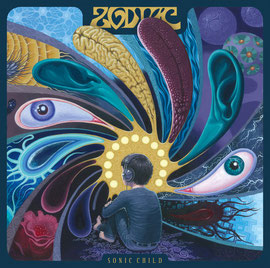 VÖ: 19.09.2014
Label: Napalm Records
Format: CD
Tracklist:
01. Intro Who I Am
02. Swinging On The Run
03. Sonic Child
04. Holding On
05. Sad Song
06. Out Of The City
07. A Penny And A Dead Horse
08. Good Times
09. Rock Bottom Blues
10. Just Music
Zodiac haben sich seit der "A Bit Of Devil"-Veröffentlichun erstaunlich weiterentwickelt. Obwohl ich vor dem Erstkontakt mit "Sonic Child" ein wenig Bedenken hatte, da meistens drei Alben in ebenso vielen Jahren für viele Bands eine kompositorische Herausforderung und eine damit einhergehende Überlastung bzw. den Verlust der eigenen Kreativität bedeutet. Dies scheint bei Frontmann Nick Van Delft, Long Distance Calling-Drummer Janosch Rathmer und ihren beiden Mitstreitern (Stephan Gall an der Gitarre, sowie "Telefonkabel"-Bassist Ruben Claro) jedoch kein Thema zu sein. Dafür klingt auch "Sonic Child" viel zu frisch, viel zu inspiriert. Manchmal wünscht man sich die vier Musiker würden öfter mal den Härtegrad etwas anziehen, wie sie es in "Holding On" bzw. "Out Of The City", den eher flotteren Beiträgen von "Sonic Child", auch zeigen. Aber es waren seit jeher diese warmen, diese wohlig-weichen Töne, welche Zodiac so einzigartig gemacht haben. Ein "Sad Song", der wirklich verdammt sad, so richtig unglaublich traurig ist, dieser relaxte Blues-Touch in "A Penny And A Dead Horse" oder im "Rock Bottom Blues". Aber auch das groovige, ganz leicht treibende "Not Fragile" bzw. das verspielte "Shine On" wissen ohne Umschweife zu überzeugen.
(Jan Heesch)
Das Album kann hier direkt bei Amazon gekauft werden.

Line-up:
Nick van Delft (Vocals / Guitar)
Stephan Gall (Guitar)
Ruben Claro (Bass)
Janosch Rathmer (Drums)
Diskografie:
2014: Sonic Child
2013: A Hiding Place
2012: A Bit of Devil