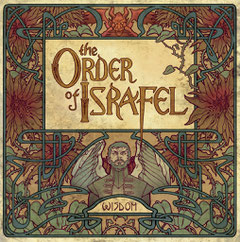 VÖ: 29.08.2014
Label: Napalm Records
Format: CD
Tracklist:
01. Wisdom
02. The Black Wings A Demon
03. The Noctuus
04. The Earth Will Deliver What Heaven Desires
05. The Order
06. Born For War
07. Promises Made To The Earth
08. The Vow
09. Morning Sun (Satanas)
Tom Sutton sollte man noch von seinem Gastspiel bei den japanischen Serienkiller-Fans Church of Misery kennen, den Insidern wird wohl auch der Name Patrik Andersson Winberg was sagen. Der Schwede hat mit den Doomdogs zwei beachtliche Veröffentlichungen kreiert. Jetzt, da Sutton nicht mehr bei den Japanern spielt und Winberg bei den Doomdogs gegangen ist, wurde es Zeit etwas gemeinsam auf die Beine zu stellen. Natürlich fühlt sich auch The Order Of Israfel der Langsamkeit verbunden, man würde der Truppe, welche durch Hans Lilja und Staffan Björck komplettiert wird, aber Unrecht tun, sie als reinen Doom-Act einzustufen. Da wird auch gerne der 70er-Jahre Rock zelebriert, die Psychedelic-Einflüsse sind auch nicht zu überhören und zwar hauptsächlich dann, wenn Sutton und Winberg ihre Songs auf zehn Minuten und länger bringen. Das fängt schon beim Titel-gebenden Opener an, der ziemlich starke Doomeinflüsse eingehaucht bekam, aber besonders durch die wirklich antörnenden Akustik-Parts und diversen fetten Mid-Tempo-Metal-Parts zu gefallen weiß. Richtig flott sind die beiden mit eher normaler Spielzeit auskommenden "On Black Wings, A Demon" bzw. "Born For War" ausgefallen, während dessen "The Noctuus" mit beiden Extremen fast bist zum Exzess herumspielt. Herzstück des Debütalbums von The Order Of Israfel ist aber zweifellos das über eine Viertelstunde dauernde Mammut-Epos "Promises Made To The Earth", bei dem die drei Schweden und ihr Amerikanischer Gitarrist/Sänger so ziemlich alles aufbieten, was der Doom-, der Classic-, sowie der Psychedelic- und sogar der Stoner-Rock so zu bieten hat.
(Jan Heesch)
Das Album kann hier direkt bei Amazon gekauft werden.