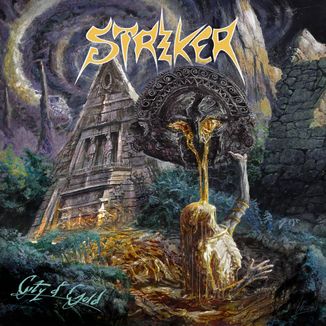 VÖ: 29.08.2014
Label: Napalm Records
Format: CD
Tracklist:
01. Underground
02. City Of Gold
03. Start Again
04. Bad Decisions
05. Crossroads
06. All For One
07. Mind Control
08. Second Attack
09. All I Want
10. Rise Up
11. Taken By Time
Zusammen mit Skull Fist und Cauldron bilden die aus Edmonton, Alberta, stammenden Striker das Dreigestirn des kanadischen Heavy Metals. Zwei Jahre nach ihrer letzten Veröffentlichung wollen sie es nun wieder wissen und lassen mit "City Of Gold" endlich ihre dritte Platte vom Stapel.
Sriker setzten vor allem im Studio schon immer auf eine gehörige Portion Heavyness und so gibt es auch auf "City Of Gold" von der ersten Minute an monolithische Gitarrenwände und Amps. Musikalisch rangieren Striker zwischen Heavy- und Speed Metal mit nicht zu überhörenden Einflüssen aus den 80ern. Neben den starken technischen Fähigkeiten der Band ist wohl ihr deutlichstes Aushnängeschild noch immer Sänger Dan Cleary, der auch auf "City Of Gold" wieder mit einer herausragenden Gesangsleistung punktet. Im Vergleich zu "Armed To The Teeth" haben die Kanadier in Sachen Härte noch eine Schippe draufgelegt, was erfreulicherweise nie zu Lasten der Eingängigkeit geht. Und so bietet Striker mit Nummern wie "Start Again", "Mind Control" oder dem Rausschmeißer "Taken By Time" schlicht zeitlosen, technisch brillanten Heavy Metal. Mit "All I Want" wird es stellenweise sogar etwas ruhiger. Einen ähnlichen Sound hatte man von Striker bisher so noch nicht gehört. Im Vergleich zum Vorgänger fällt zudem auf, dass die Band beim Songwriting gewaltig nachgezogen hat: war "Armed To The Teeth" schon ein wirklich gutes Album, so agieren Striker auf "City Of Gold" noch deutlich prägnanter und kommen in ihren Songs schlicht besser auf den Punkt.
Mit "City Of Gold" finden Striker die ideale Schnittmenge aus zeitgemäßer Härte und Hard ´n Heavy Tradition. Zwar ist es der Truppe noch nicht ganz gelungen, auch im Studio zu ihren Landsleuten Skullfist aufzuschließen, in der gleichen Liga spielen sie nun aber allemal. "City Of Gold" ist voll von zeitlosem Heavy Metal und sei jedem Headbanger daher wärmstens ans Herz gelegt.
(Jan Heesch)
Das Album kann hier direkt bei Amazon gekauft werden.
Line-up:
Dan Cleary - Lead Vocals
Tim Brown- Lead/Rhythm Guitar
Chris Segger - Lead/Rhythm Guitar
Adam Brown - Drums
William Wallace - Bass
Diskografie:
2014: City Of Gold
2012: Armed to the Teeth
2010: Eyes in the Night
2009: Road Warrior (EP)