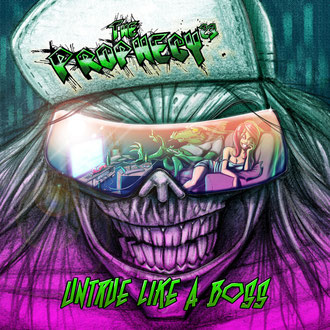 VÖ: 26.09.2014
Label: Massacre Records
Format: CD
Tracklist:
01. The Greatest Wrestling Fan
02. Pit Laserbeam
03. Party Like It's '84
04. Untrue To The Bone
05. Video Games Ain't No Shame
06. Home Is Where You Shred
07. Action Metal
08. Bass Player
09. The Ballad Of SOD
10. Pablo The Peacemaking Pizza
11. Fuck The Dub
12. Tape Trading Like A Boss
13. The Ballad Of Old School Metal
14. Bonus: Arriba Abajo
Die Jungs von The Prophecy23 haben mit dieser neuen Scheibe die Messlatte nochmals um einiges angehoben. Wem die Vorgängeralben "Green Machine Laser Beam" oder "To The Pit" bereits gefallen haben, der wird dieses Album lieben. Geboten wir hier Thrash vom Feinsten, mit (nicht immer) ganz ernst gemeinten Texten. Sei es der größte Wrestling Fan, der Videospielliebhaber oder der Bass Player der endlich auch mal wahrgenommen werden will. Immer bleibt einem ein Schmunzeln im Gesicht. Besonderer Anspieltipp ist "The Ballad of SOD". Was die Jungs mit diesem Track für ein komplexes Meisterwerk geschaffen haben, das sucht seinesgleichen. Außerdem zu erwähnen ist die Ode an ihr Masskottchen "Pit Laserbeam" welche wohl als absolute Live Hymne auf keinem Konzert mehr fehlen darf. Wer Spass an guter Thrash-Mucke mit originellen Texten hat, für den ist dieses Album ein absoluter Kauftipp.
(Jan Heesch)
Line-up:
Dennis Lidak - Guitar
Florian Sanden - Drums
Hannes Klopprogge - Thrash Vocals, Guitar
Philipp Heckel - Death Vocals
Phil Butcher - Bass
Diskografie:
2014: Untrue Like A Boss
2012: Green Machine Laser Beam
2010: To the Pit