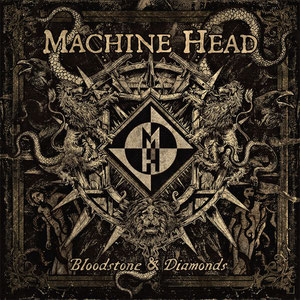 VÖ: 07.11.2014
Label: Nuclear Blast
Format: CD
Tracklist:
01. Now We Die (7:10)
02. Killers & Kings (4:32)
03. Ghosts Will Haunt My Bones (6:06)
04. Night Of Long Knives (6:48)
05. Sail Into The Black (8:29)
06. Eyes Of The Dead (6:25)
07. Beneath The Silt (4:43)
08. In Comes The Flood (7:22)
09. Damage Inside (3:24)
10. Game Over (6:36)
11. Imaginal Cells (3:36)
12. Take Me Through The Fire (5:48)
Mit dem aktuellen Langspieler "Bloodstone & Diamonds" zeigen uns Machine Head erneut welche geballte Power in ihrer Musik steckt und das sie trotz des Ausscheidens von Adam Duce noch hervorragenden Metal schreiben und produzieren können. Oder vielleicht sogar gerade deswegen? Zumindest könnte man hier zwischen den Zeilen ein gewisses "IN YOUR FACE!" erahnen...
Bei der Produktion hatte, neben Bandchef und Songschreiber Rob Flynn, auch Juan Urteaga (TESTAMENT, VILE) seine Finger im Spiel. Das Mixing machte erneut Colin Richardson (CARCASS, FEAR FACTORY, SLIPKNOT, BEHEMOTH, DEVILDRIVER), an dessen Können man sich ja bereits auf fast allen MH-Alben erfreuen durfte. Und auch Neuzugang Jared MacEachern ergänzt das Line-up mit seinem Bassspiel und den Backingvocals sehr gut.
Mal etwas härter, mal etwas melodischer bringen die Songs insgesamt eine Wucht durch die Boxen, die einem direkt im Gehörgang stecken bleiben. Die fetten Drums und Gitarrenriffs ergeben einen runden Sound, der aber trotzdem nicht langweilig wird. Ein paar Ecken und Kanten hier und da bringen dafür die entsprechende "Würze".
Der erste Track ist auch gleich die erste Single: "Now We Die" bildet einen geradezu brachialen Einstieg in die CD. "Sail Into The Black" ist so etwas wie der erste Ruhepol des Albums. Sehr ruhige Gitarrentöne, zur Mitte des Tracks ein paar Bassschläge, aber schon wird es wieder ruppiger und Flynn legt gleich wieder los. Insgesamt bleibt es aber eher verhältnismäßig seicht. Die nächsten Songs haben wieder den üblichen MH-Charme. Auf "Damage Inside", einem ebenfalls langsamen Stück, hört man Herrn Flynn in tiefen Clearvocals - hier auch tatsächlich bis zu Schluß! "Imagine Cells" sticht hier wieder extra heraus. Der komplette Track klingt im Prinzip wie ein Nachrichtensprecher aus der Blechdose; musikalisch unterlegt aber ohne einem Ton von Rob Flynn. Das letzte Stück, "Take Me Through The Fire", ist ein schöner midtempo-Abschluß bei dessen Ende man gleich nochmal zu Track 1 springen und das Album nochmal hören möchte.
Wie Rob Flynn selbst schon in Interviews sagte, wird und muss man dieses Album einfach lieben!
"Bloodstone & Diamonds" hat daher meine absolute Kaufempfehlung!
(Sarah Jacob)
Das Album kann hier direkt bei Amazon gekauft werden.

Line-up:
Robert Flynn - Vocals, Gitarre
Phil Demmel - Gitarre, Backingvocals
Jared MacEachern - Bass, Backingvocals
Dave McClain - Drums
Diskografie:
2014: Bloodstone & Diamonds
2011: Unto The Locust
2007: The Blackening
1994: Burn My Eyes
2003: Through The Ashes Of Empires
2001: Supercharger
1999: The Burning Red
1997: The More Things Change…