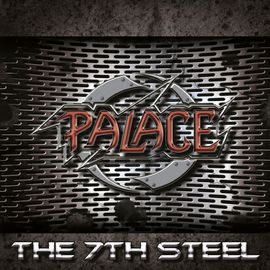 VÖ: 26.09.2014
Label: Massacre Records
Format: CD
Tracklist:
01. Rot In Hell
02. Iron Horde
03. Bloodshed Of Gods
04. Blades Of Devil Hunter
05. Holy Black Rider
06. Desert Revolution
07. Metal Company
08. Secret Signs
09. Teutonic Hearts
10. Under New Flag
Erfahrung ist so ein Thema, das sich für die meisten Bands im Laufe ihrer Karriere immer positiv auswirkt. Und über reichlich Erfahrung verfügen die Teutonic Metaller von Palace, was man ihrer neuen Platte mit dem passenden Titel "The 7th Steel" auch anhört. Passend deshalb, weil es sich um das siebte Studioalbum der Band aus der Weinstadt Speyer/Pfalz handelt.
Das erste, "Toy Of Rage" erschien 1996, feiert dieses Jahr also seine Volljährigkeit. Außerdem verfügt die Band zudem über eine Menge Live-Erfahrung, schließlich tourten sie schon neben vielen anderen mit Brainstorm, Crematory, Powerwolf oder Primal Fear. Und der Fan des deutschstammigen Metal bekommt auch auf dieser Platte all das geboten, was er erwartet und hören möchte. Zehn mal gibt es riffgewaltige Power auf die Ohren, der mit schneidenden Solos und starkem mehrstimmigen Gesang bzw. Chören garniert ist. Sänger Harald "HP" Piller macht seine Sache auch diesmal wieder gewohnt gut und sorgt mit seiner Metalröhre für einen hohen Wiedererkennungswert der Band. Sicherlich, allein mit Songtiteln wie "Metal Company", "Teutonic Hearts" oder "Iron Horde" werden sämtliche Klischees bedient, die das Genre so zu bieten hat. Genau aber für diese Fans machen Palace nämlich immer noch diese Musik und die machen sie sehr souverän und mit viel Herzblut. Auch das hört man "The 7th Steel" mit jedem Ton an. Eine super Scheibe, die sich jeder Anhänger von Accept, Grave Digger oder Gun Barrel bedenkenlos ins Regal stellen kann.
(Jan Heesch)
Das Album kann hier direkt bei Amazon gekauft werden.

Line-up:
Jason Mathias - Guitars
Tom Mayer - Bass
Harry Reiter - Drums
Harald "HP" Piller - Vocals/Guitars
Diskografie:
2014: The 7th Steel
2011: Dreamevilizer
2008: Divine Intervention
2006: Black Sun
2003: Machine Evolution
1998: Unsolved Mysteries
1996: Toy Of Rage