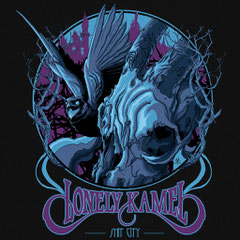 VÖ: 29.08.2014
Label: Napalm Records
Format: CD
Tracklist:
01. Shit City
02. White Lines
03. Is It Over
04. I Feel Sick
05. Seal The Perimeter
06. Freezing
07. BFD
08. Falling Down
09. Nightjar
Lonely Kamel ist eine Band die seit 2006 aktiv ist, bereits drei Alben veröffentlicht hat und auch an der Live-Front schon kräftig unterwegs war, welche nun ihr aktuelles Werk "Shit City" vorstellen. Dass Lonely Kamel aus Norwegen stammen, hört man "Shit City" wirklich nicht an. Denn, was da zu hören bekommt, das ist schon recht ungewohnt für eine Band aus skandinavischen Gefilden. Es klingt eher nach Wüste, als nach Fjorden und endlosen Wäldern. Lonlely Kamel spielen eine Mischung aus klassischem Hard Rock, Stoner Rock, Blues, Psychedelic und Doom. Damit gehören die Norweger ebenfalls zu der Vintage Rock Bewegung, welche dem Sound der Sechzigern und vor allem Siebzigern nach eifern. Dazu gehört auch, dass die Rhythmussektion live eingespielt wurde. Im Falle von "Shit City" klingt das Ergebnis dann auch wieder einmal richtig authentisch und variantenreich. Da wird mal die Slide-Gitarre ausgepackt, der Titelsong versprüht eine überraschende Punk-Attitüde, dann wieder was psychedlisch vernebelt tönendes, dann wieder schwerfällig Retro-Doomig. Der kräftige Gesang hat Ähnlichkeiten zur Stimme von Josh Homme (Queens Of The Stone Age). Der Groove erinnert immer wieder an Led Zepplin, die Stoner-Momente sind von Kyuss beeinflusst, dazu ein Schuss, Black Sabbath und Jimi Hendrix, und fertig ist Lonely Kamel.
Alles in allem ist "Shit City" ein überdurchschnittlich gutes Album, das absolut authentisch wirkt. Lediglich die ganz großen Songs haben Lonely Kamel bis jetzt noch nicht geschrieben.
(Jan Heesch)
Das Album kann hier direkt bei Amazon gekauft werden.

Line-up:
Thomas Brenna - vocals & guitar
Lukas Paulsen - guitar & backing vocals
Stian Helle - bass
Espen Nesset - drums
Diskografie:
2014: Shit City
2011: Dust Devil
2010: Blues for the Dead
2008: Lonely Kamel