JOHN GARCIA. Er ist der Begründer und die einflussreichte Stimme des Stoner Rocks.
Wenn der Rock'n'Roll durch die Stones personifiziert wurde, Pop Musik durch die Beatles, dann wurde der Desert Rock definitiv mit Kyuss geboren. Ihren legendären Sänger braucht man heute wohl kaum mehr vorstellen: JOHN GARCIA teilte seinen Traum und die unvergesslichen Erfahrungen nach der Trennung von Kyuss mit seinen Fans weiter, nach unzähligen Gigs auf namenhaften Festivals und weltweit ausverkauften Konzerten mit Kyuss Lives, folgte er mit Vista Chino und ihrer gefeierten Peace LP auf den Pfaden von Kyuss, bis sich nun ein seit vielen Jahren gehegter Traum des Ausnahme- Musikers verwirklichte: Das lang erwartete Solo Album von John Garcia – der einflussreichsten Stimme der gesamten Wüsten- und Stoner Rock Szene – ist über Napalm Records erschienen & seit dem 25.07.2014 überall im Handel erhältlich!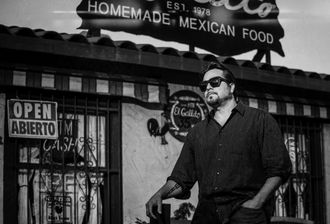 Um die Veröffentlichung seines Solo Debüts gebührend zu feiern, begibt sich JOHN GARCIA ab dieser Woche nun auf umfangreiche Europe Tournee, auf welcher er sein Solo Projekt live vorstellen, jedoch auch seine Vergangenheit und Gegenwart auf die Bühne bringen wird: Von legendären Kyuss Songs aus Sky Valley, Blues for the Red Sun, ...And The Circus Leaves Town – inklusive Rariäten die selbst Kyuss nie live gespielt haben – bis hin zu Slo Burn. Diese Tour bildet für jeden Wüstenrocker ein einzigartiges Live Highlight aus dem gesamten kreativen Schaffen John Garcias!
Für seine kommende Solo- Tour holt sich John Garcia folgende Live Musiker mit auf die Bühne:
Ehren Groban - Guitar (War Drum), Mike Pygmie - Bass (You Know Who), Greg Saenz - Drums (You Know Who, The Dwarves).
Macht Euch bereit für DIE heißeste Tour des Jahres 2014: JOHN GARCIA (ex- KYUSS, VISTA CHINO, SLO BURN) - LIVE AUF TOUR, playing past & present!
Erlebt die Legende im November & Dezember 2014 live in folgenden Städten & sichert euch noch schnell euer Ticket: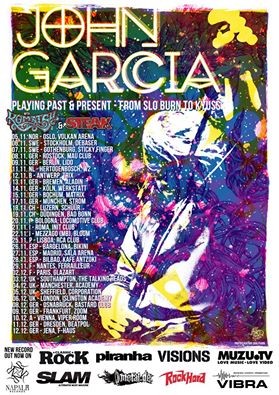 05.11.2014 - NO - Oslo, Vulkan Arena
06.11.2014 - S - Stockholm, Debaser
07.11.2014 - S - Göteborg, Sticky Finger
08.11.2014 - D - Rostock, Mau Club
09.11.2014 - D - Berlin, Lido
11.11.2014 - NL - Hertogenbosch, W2
12.11.2014 - B - Antwerp, Trix
13.11.2014 - D - Bremen, Aladin
14.11.2014 - D - Köln, Werkstatt
15.11.2014 - D - Bochum, Matrix
17.11.2014 - D - München, Strom
18.11.2014 - CH - Luzern, Schüür
19.11.2014 - CH - Düdingen, Bad Bonn
20.11.2014 - I - Bologna, Locomotive Club
21.11.2014 - I - Rom, Init Club
22.11.2014 - I - Mezzago (MB), Bloom
25.11.2014 - P - Lisboa, RCA Club
26.11.2014 - E - Barcelona, Bikini
27.11.2014 - E - Madrid, Sala Arena
28.11.2014 - E - Bilbao, Kafe Antzoki
02.12.2014 - F - Paris, Glazart
03.12.2014 - UK - Southampton, The Talking Heads
04.12.2014 - UK - Manchester, Academy
05.12.2014 - UK - Sheffield, Corporation
06.12.2014 - UK - London, Islington Academy
08.12.2014 - D - Osnabrück, Bastard Club
09.12.2014 - D - Frankfurt, Zoom
10.12.2014 - A - Wien, Viper Room
11.12.2014 - D - Dresden, Beatpol
12.12.2014 - D - Jena, F - Haus
TICKETS unter: http://smarturl.it/JohnGarciaTickets
John Garcia auf Facebook: https://www.facebook.com/JohnGarciaOfficial
"My Mind" – Das offizielle Video aus John Garcia's Solo Album: http://youtu.be/lA5pjOxR4kw
"John Garcia" - Das neue Solo Album überall im Handel sowie auf Napalm Records erhältlich: