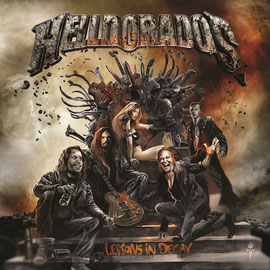 VÖ: 19.09.2014
Label: Massacre Records
Format: CD
Tracklist:
01. Seven Deadly Sins
02. In For The Kill
03. By The Progress
04. The Devil Takes The Hindmost
05. Anytime, Anywhere
06. Let Us Play
07. Megalomaniac
08. Wake Up Dead
09. To Live Is To Die
10. Something Sweet
11. We Won't Back Down
Wenn man als Kind oft genug Western gesehen hat, denkt man beim Bandnamen sofort an eben dieses Filmgenre und erwartet bei dem Bandnamen sofort eine Formation die Country spielt. Während die musikalische Seite mit ordentlich Power zu Werke geht und die Banjoklänge Abwechslung von Einerlei bietet, zeigt Frontmann Pierre schon bei dem Song diverse kleine bis mittlere Schwächen auf. Auf der einen Seite hängt er der Wucht der Instrumente etwas hinterher. Auf der anderen Seite wirkt der Gesang bisweilen etwas aufgesetzt. "Seven Deadly Sins" hätte mit einem druckvolleren, natürlichen Gesang sicher besser überzeugen können. Besser ist da schon "By The Progress", ein einigermaßen überzeugender Refrain lässt den Song entfernt an große Sleaze Rocker erinnern. Auch bei "Anytime, Anywhere" hat die Band einen großen Blick Richtung Hollywood in den Mid-Achtzigern geworfen. Trotzdem klingen Helldorados irgendwie noch nach Sleaze Rock auf einem schwäbischen Dorffest. Dort geben sie, wie als als Opening Act bei Festivals oder Konzerten, eine ordentliche Figur ab. Im direkten Vergleich zu den alteingesessenen Acts, hinken die Schwaben jedoch der Musik hinterher. Das sind Mängel, die man sicher in einiger Zeit beheben kann kann, denn kein Frontmann ist als charismatischer Vollblutprofi auf die Welt gekommen. Negativer fallen da das ziemlich AC/DC angehauchte "The Devil Takes The Hintmost" oder das ebenfalls langatmige "Let Us Play" ins Gewicht. Vollkommen unpassend ist ein dreist von Metallica inspiriertes Stück wie "Megalomaniac". Das Stück für sich wäre okay, aber in diesem Fall reißt es den Hörer mit Gewalt aus dem Album.
 (Jan Heesch)
Das Album kann hier direkt bei Amazon gekauft werden.

Line-up:
Pierre - Lead Vocals
Gunnar - Bass
Steve - Guitars
Chris - Drums
Diskografie:
2014: Lessons In Decay
2012: Helldorados