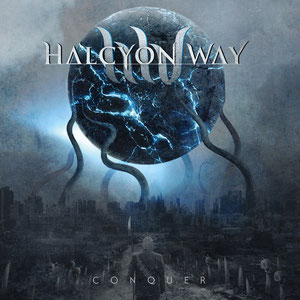 VÖ: 19.09.2014
Label: Massacre Records
Format: CD
Tracklist:
01. Conquer
02. Web Of Lies
03. Conceived In Torment
04. Home
05. World Comes Undone
06. Militant
07. Hatred Is My Cause
08. The Poisoned Apple
09. Save Your Tears
10. Unbroken
11. King Of Ruin
12. Eviscerate The Morning Sun
Halcyon Way mußten bisher ohne europäisches Label agieren und ihre Alben hierzulande konnte man nur auf dem Importwege bekommen. Trotzdem sind die Amerikaner recht häufig in unseren Breitengraden unterwegs gewesen. Touren mit U.D.O., Delain oder Fates Warning wurden bereits erfolgreich absolviert, und schon stehen weitere Auftritte mit Saxon und Skid Row auf dem Programm.
Neben den Konzerten ist es genauso wichtig neue Werke zu veröffentlichen, und mit "Conquer" legt man im Vergleich zu früheren Alben eine ganze Ecke an Qualität zu. Nicht, dass Alben wie "A Manifesto For Domination" (2008) wirklich schlecht gewesen wären, aber "Conquer" vereint alle Stärken der Band: auf der einen Seite sind es feine Melodien, die sich oftmals erst auf dem dritten oder vierten Hördurchgang ins Ohr schleichen, auf der anderen Seite ist das die brachial-moderne Seite der Band, was sich im unnachgiebigen Drumming und harschen Gitarrenriffs niederschlägt. Garniert wird die musikalisch abwechslungsreiche Geschichte mit vielschichtigen und anspruchsvollen Strukturen sowie Tempo- und Stimmungswechseln. Wer bei den Stichwörtern "unaufdringliche Melodien", "moderner Power Metal mit Anspruch" jetzt beispielsweise an Bands wie Nevermore denkt, der liegt gar nicht einmal so verkehrt, denn der Sound der Seattle-Power-Metaller hat fraglos seine Spuren bei Halcyon Way hinterlassen, ohne dass der Fünfer sich im bloßen Kopieren ergehen würde. Auch Evergrey All That Remains oder Queensryche dürfen als Einflüsse herangezogen werden.
(Jan Heesch)
Das Album kann hier direkt bei Amazon gekauft werden.

Line-up:
Steve Braun - Vocals
Jon Bodan - Lead Guitar, Death Vocals
Ernie Topran - Drums
Max Eve - Rhythm Guitar
Skyler Moore - Bass Guitar
Diskografie:
2014 Conquer
2011 IndoctriNation
2010 Building The Towers
2008 A Manifesto For Domination