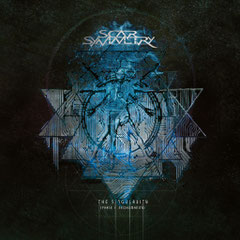 VÖ: 03.10.2014
Label: Nuclear Blast
Format: CD
Tracklist:
01. The Shape of Things to Come (0:52)
02. Neohuman (8:43)
03. Limits to Infinity (4:57)
04. Cryonic Harvest (6:12)
05. The Spiral Timeshift (4:50)
06. Children of the Integrated Circuit (2:25)
07. Neuromancers (5:11)
08. Technocalyptic Cybergeddon (10:12)
Mit dem sechsten Album "The Singularity (Phase I – Neohumanity)" kehrt die schwedische Melodic Death Metal Formation nun wieder unter die Lebenden zurück. Drei Jahre sind vergangen, seit das hoch angepriesene Album "The Unseen Empire" erschien. In dieser Zeit hat sich auch etwas innerhalb der Band getan:
Per Nilsson ist nun selbst Produzent und Hauptsongschreiber, Jonas Kjellgren hat zwischenzeitlich die Band verlassen und die Sänger haben sich stimmlich sehr viel weiter entwickeln können.
Mit "The Singularity (Phase I – Neohumanity)" veröffentlicht die Band den ersten Teil einer Konzeptalbum-Trilogie. Was bei vielen Bands schief läuft, scheint in diesem ersten Fall zumindest, eine viel versprechende Geschichte zu werden. Das Label beschreibt die lyrischen Ergüsse etwa so: "[...] jenseits des Ereignishorizonts der technologischen Singularität, wo die sich ständig weiterentwickelnde künstliche Intelligenz, Roboter, Kryogen- und Klontechnologie, die Menschheit an den Rand einer technischen Apokalypse und eines Cybergeddon bringen."
Dies wird von Lars Palmqvists Clear Vocals sehr gut unterstützt, die Roberth Karlsson immer wieder mit dem klassischen Death Metal Growling durchbricht. Mittlerweile sind diese konstellationen ja eher recht selten geworden, da sich die meisten Bands bei mehrstimmigen Vocals eher an den seichteren Screams orientieren.
Musikalisch gibt es nicht viel zu meckern. Gute Gitarrenriffs und exzellentes Drumspiel machen die Sache ziemlich rund. Hier und da findet sich allerdings ein etwas zäh wirkendes Instrumentalstück, was die Lieder etwas in die Länge zieht. Meist gibt es jedoch kompakte Stücke.
(Sarah Jacob)
Das Album kann hier direkt bei Amazon gekauft werden.

Line-up:
Roberth Karlsson - Lead growl vocals
Per Nilsson - Guitars
Kenneth Seil - Bass
Henrik Ohlsson - Drums
Lars Palmqvist - Lead clean vocals
Diskografie:
2011: The Unseen Empire (Nuclear Blast)
2009: Dark Matter Dimensions (Nuclear Blast)
2008: Holographic Universe (Nuclear Blast)
2006: Pitch Black Progress (Nuclear Blast)
2005: Symmetric in Design (Metal Blade Records)