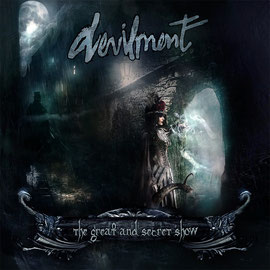 VÖ: 31.10.2014
Label: Nuclear Blast
Format: CD
Tracklist:
01. Summer Arteries (6:14)
02. Even Your Blood Group Rejects Me (5:22)
03. Girl From Mystery Island (5:49)
04. The Stake In My Heart (4:42)
05. Living With The Fungus (5:43)
06. Mother Kali (3:43)
07. Staring At The Werewolf Corps (6:45)
08. Sanity Hits A (Perfect) Zero (6:10)
09. Laudanum Skull (5:25)
10. The Great And Secret Show (5:35)
Pünktlich zu Halloween bescherte uns der Meister des Dark Metal, Dani Filth, mit dem neuen Seitenprojekt DEVILMENT.
Wer bei diesem Debütalbum eine Kopie von Cradle Of Filth erwartet, wird enttäuscht. Sicherlich finden sich hier und da in der Stimme parallelen in den sehr hohen Tönen, ansonsten ist "The Great And Secret Show" ein eigenständiges Werk. Darauf hat Bandgründer Daniel Finch vermutlich auch geachtet.
Vom ersten bis zum letzten Lied finden sich hier die düsteren und mysteriösen musikalischen Ergüsse der Band, die, nach diversen Besetzungswechseln im Vorfeld, dann doch ihren eigenen Stil gefunden zu haben scheint.
"Summer Arteries" beginnt zwar mit einen leisen und seichten Intro, bringt dann aber wieder ordentlich Tempo in die Struktur. "Even Your Blood Rejects Me" gehört hier zu den etwas langsameren Titeln. Bei "The Stake In My Heart" und dem Schluß- sowie Titeltrack "The Great And Secret Show" knüppel uns die BPM gerade zu durch die Boxen entgegen. Recht abwechselnd von Uptempo zu teilweise Midtempo bietet die CD so auch kleine Verschnaufpausen.
Der Gesang von Dani Filth wird immer wieder von Keyboarderin Lauren Francis unterstützt.
Auf der Bandeigenen Facebookseite wird das Genre ganz allgemein einfach nur als Metal betitelt, hier sind allerdings durchaus die Fans der härteren Gitarrenklänge gefragt. Wer Black Metal mag, wird an dieser Scheibe sicherlich auch seinen Gefallen finden und kann damit sein CD-Regal ergänzen.
(Sarah Jacob)
Das Album kann hier direkt bei Amazon gekauft werden.

Line-up:
Dani Filth - vocals
Daniel Finch - guitar
Nick Johnson - bass
Colin Parks - guitar
Lauren Francis - vocals, keys
Aaron Boast - drums